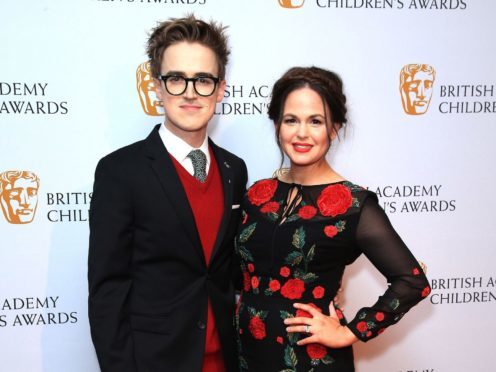 Blogger and author Giovanna Fletcher has said she finds receiving comments about the size of her pregnant stomach "deflating".
Fletcher, 33, is expecting her third child with McFly singer Tom Fletcher, 32.
She took to social media to say how she was fed up of being told by people how big her bump is. She also encouraged other pregnant mothers to feel positive about their appearance and to take no notice of other people's opinions.
The Happy Mum, Happy Baby author posted a pink caption with the words "You're Big!" quoted in white font.
Referring to the caption, she wrote alongside it on Instagram: "Third pregnancy, 10 weeks (potentially) to go.
"How many more times do I have to hear this every time I leave the house? It's a little deflating, especially when it comes with an 'Oh gosh' before it.
"Just want to give a shout out to all those mums who are having people commenting on the size of their bumps, whether big or small.
"Remember, these comments don't come from health professional or people in the know. They're just comments. Perhaps something to say. A bit of pointless smalltalk that'll play on your mind but not on theirs.
"Bat it away. Your body is doing an amazing thing right now and your focus should be on the little human you're growing.
"Remember how lucky you are to be in this position when so many others would love to be. Your body is a miracle.
"It doesn't need the approval of anyone else. Focus on the love! Xxxx #mybumpnotyours #bodypositivity"
Fletcher's musician husband announced her pregnancy in March in a video, which also featured the couple's sons Buzz, three, and Buddy, two, making a snowman as a family.
Alongside the video he wrote: "We thought we'd make it a trilogy. Baby 3 coming September! Couldn't be happier. @mrsgifletcher."