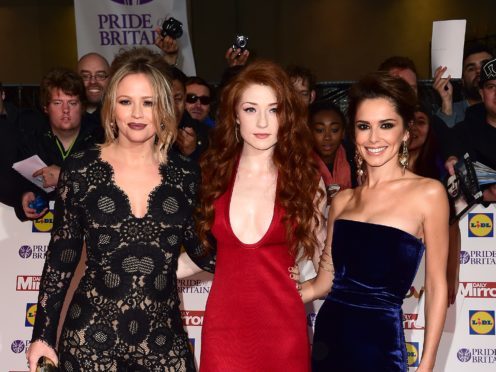 Kimberley Walsh has said her friend Cheryl's new music sounds "exciting", and that she has a good working relationship with their close friend and former Girls Aloud co-star Nicola Roberts.
The singer has also said that she and Cheryl, who both have sons of a similar age, are very alike in their parenting styles and are "helping each other through" motherhood.
Walsh, 36, told The Sun's Fabulous magazine, of Cheryl's new musical efforts: "I can't give anything away, but she played me some the other day and it's quite exciting."
She added, of the partnership with Roberts: "Those two always worked well together.
"They were always more into the writing than the rest of us, and I think they bring out the best in each other."
Cheryl, 35, has taken a step back from the spotlight over the past year after welcoming her son Bear with One Direction star Liam Payne, from whom she recently split.
But earlier this year, she revealed she has been working on new music with Roberts and record producer Naughty Boy, her first since her last album Only Human in 2014.
Walsh said: "The way Cheryl likes to be is: when it's family time, it's family, and when it's work time, it's work, and there's nothing wrong with that.
"Juggling work and being a mum, she'll find her way just like we all do. It's just the way it is.
"Cheryl's in a really good place and we're just helping each other through," former Strictly Come Dancing star Walsh said.
"We mother quite similarly, which I think was always likely because we're such close friends.
"She's got so many nieces and nephews, so it's like she's always done this and she's doing really well.
Walsh, who has sons Cole and Bobby with husband Justin Scott, said she thinks she would like to have one more child to become a mother of three.
"I'm one of four so I think that's why I'm like: 'We can just keep going!' I didn't find pregnancy difficult, and I think if you've had a good experience then that makes the decision a bit easier," she said.
"I think once this phase passes, Justin will be like: 'Ah, OK then'. It might feel more doable to him. It's just that they're so full-on at the moment."