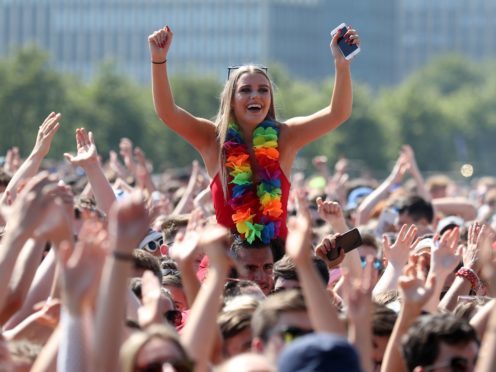 The Killers are said to be excited to be headlining the final day of the TRNSMT festival.
They are bringing the festival to a close, with home town acts Franz Ferdinand and Chrvches also taking to the main stage.
Music lovers basked in 23C temperatures on Sunday as the heatwave continued for the last day of the five-day event.
Festival organiser Geoff Ellis, of DF Concerts, said The Killers arrived early and were "excited" about their closing slot.
Rising Scottish star Lewis Capaldi entertained the crowds with a taste of things to come as he covered the band's hit All These Things That I've Done.
Fellow Scot Nina Nesbitt appeared with him on the main stage ahead of her headline appearance on the King Tut's Stage.
The TRNSMT first-timer and one-time Ed Sheeran muse said: "I love playing gigs in Scotland and I feel like festivals are even better because everybody is a bit drunk and just up for it.
"T in the Park was my favourite," she added. "They've always been really fun crowds so fingers crossed for tonight."
TRNSMT is in its second year after taking over from T in the Park as Scotland's major summer music festival.
Spread over two weekends, Queen + Adam Lambert headlined on Friday, following Texas, The Alabama 3 and The Darkness.
The line-up the previous weekend included headline performances by Liam Gallagher and Arctic Monkeys, with Wolf Alice, Interpol and The Courteeners among the other acts appearing.
Mr Ellis said bands had been singing the praises of the event and audience figures are "well up" on the previous year and could near 250,000.
He said: "I'm really pleased with it. The atmosphere every day has been great, the spirit, the mood of the people has been really wonderful.
"They've been a really well behaved but up for it crowd. The reactions to performances has been brilliant, all the bands have gone away really happy.
"Queen and Adam Lambert on the Friday night said it was a brilliant gig. They were blown away by the crowd reaction and the crowd were blown away by their performance.
"The Killers got here early so they had a good look round and think the site looks great and are really excited about playing tonight.
"We were sold out for the Arctic Monkeys, sold out for Liam Gallagher and I'm really pleased with the attendances on the other days.
"It's been a great atmosphere and the weather has been tremendous as well… just a great festival, beyond our best hopes really."
Police Scotland Superintendent Simon Jeacocke said around 140 people had been reported over the duration of the festival for drug possession, with 18 people stopped at gates on Sunday and one reported for possession of a knife.
He said: "There's been no real issues with disorder, or antisocial behaviour, people have been really well behaved and I'd personally like to thank them for that and ask them to keep up the good behaviour."