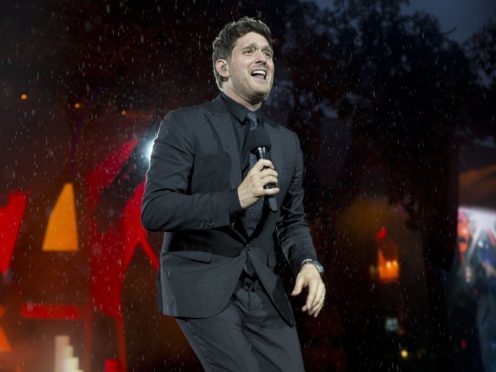 Michael Buble thanked fans for their "love and support" as he made an emotional return to the stage after putting his career on hold when his son was diagnosed with cancer.
The Canadian jazz singer told the crowd there were "many moments" he thought he "might not come back" to showbiz as he brought his recovering son Noah on stage during the finale of his British Summer Time festival set.
The headline performance at Hyde Park on Friday was the first he planned since he and actress wife Luisana Lopilato announced in November 2016 their eldest son had been diagnosed with the disease, aged three.
At the time Buble said they were "devastated" and were suspending work commitments to devote all their time to looking after him. In April, his wife said the couple remained hopeful, were "looking forward to thinking about the future" and seeing their children grow.
A tearful Buble told more than 55,000 screaming fans on Friday evening: "You have no idea how much it means to be to be surrounded by all you beautiful souls.
"I want to thank you for everything you have done for me. Thank you from me and my family for your love and support."
The crowd erupted in applause when the 42-year-old welcomed Noah to the stage with a hug and a kiss.
His two-hour set was peppered with anecdotes about his son, including how he wanted him to sing The Greatest Showman and had learnt the "Oh, Oh, Oh" refrain just before the concert – something the audience replicated, to his son's delight.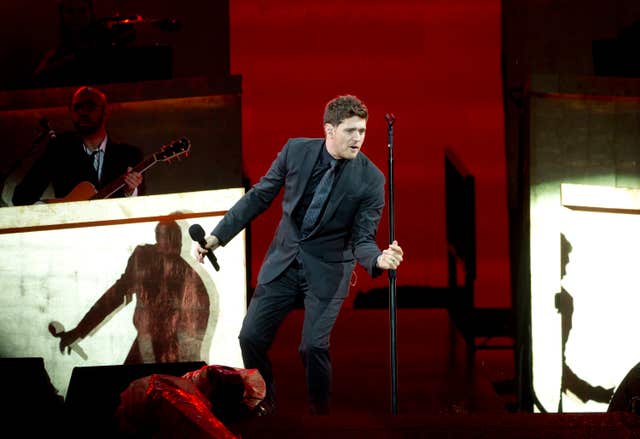 Completely unperturbed by the heavy downpour and thunderstorm, which swallowed up the sweltering heat from just moments before, Buble danced and slid around the drenched stage demonstrating his two-year break had neither affected his powerful vocal range nor humour.
Opening with Feeling Good, he told a roaring crowd the weather was "just as I imagined it would be" and praised them for their perseverance before launching into renditions of old favourites including; Just Haven't Met You Yet, Sway, Everything and Cry Me A River.
He also paid tribute to his idols Van Morrison – his support act for the evening – and Bobby Darin.
At points, he appeared to poke fun at the political climate when he introduced the brass section of his 34-strong big band who are from the USA. Singing in jest he said: "Don't blame them."
He also urged crowds to "snuggle up" and enjoy the romantic music despite "culturally what's going on right now".
He wiped away tears as he sang closing number You Were Always On My Mind before waving goodbye and carrying his son off stage.
The festival continues on Saturday with Bruno Mars as the headline act.