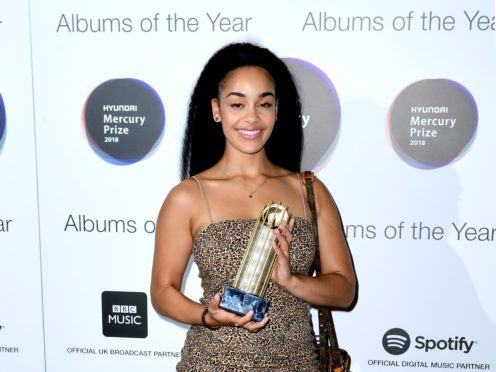 This year's nominees for the Mercury Prize include one previous winner – Arctic Monkeys – and a handful of other acts who have been nominated before.
The winner of this year's prize will be revealed at the awards show in September.
Here are the artists up for the album of the year award:
– Arctic Monkeys – Tranquility Base Hotel & Casino
The Sheffield rockers won the prize in 2006 for their debut album, Whatever People Say I Am, That's What I'm Not, and have been nominated another two times – for Favourite Worst Nightmare in 2007, and AM in 2013.
The Alex Turner-fronted band recently returned with their sixth album, Tranquility Base Hotel & Casino, after a hiatus that lasted several years, and the record – while drawing mixed reviews from critics – debuted at the top of the charts in May.
– Lily Allen – No Shame
This is the first Mercury Prize nomination for the singer-songwriter, whose latest album was released in June and peaked at number eight in the charts.
It came after a four-year break following her 2014 album Sheezus, and the electropop-inspired album includes collaborations with the likes of rapper Giggs, and has personal songs about the breakdown of her marriage, her maternal guilt and other troubles.
– Noel Gallagher's High Flying Birds – Who Built The Moon?
The Manchester rock star's band, formed in 2010 following the break-up of Oasis, dropped their third album in November to rave reviews, topping the charts.
This is the first Mercury nomination for Gallagher's group, although he was nominated twice with Oasis – in 1995 for Definitely, Maybe and in 1996 for (What's The Story) Morning Glory.
– Jorja Smith – Lost And Found
The singer-songwriter – a growing name in the industry, having collaborated with the likes of Drake and Stormzy – released her debut LP in June.
The 21-year-old R&B artist's album peaked at number three in the charts, and it was lauded by critics who praised her strong vocals and her wide-ranging take on the genre.
Smith, from Walsall in the West Midlands, won the Brit Critics' Choice Award earlier this year.
– Florence + the Machine – High As Hope
Florence Welch's musical outfit will be hoping to score their first win after two nominations in the past – for debut album Lungs in 2009, and How Big, How Blue, How Beautiful in 2015.
The indie rock band's latest album, High As Hope, was another record with generally favourable reviews, although it was the first of the group's four releases to not top the charts, thanks to heavy competition from Canadian rapper Drake, whose album was released the same week in late June.
– Everything Everything – A Fever Dream
Manchester-based indie rockers Everything Everything, who formed in 2007, have scored their second shortlist spot with their latest album, released in August last year.
Their debut studio album, Man Alive, was up for the accolade in 2011.
A Fever Dream was a success for the band – who have also previously been nominated for five Ivor Novello Awards – reaching number five in the charts.
– King Krule – The Ooz
Multi-talented King Krule, real name Archy Marshall, is a rapper, singer-songwriter and record producer whose music crosses the boundaries of trip hop, R&B, hip hop, punk rock and jazz.
The 23-year-old from London's third album, The Ooz, his second under his King Krule stage name, peaked at number 23 on the charts following its release in October, and was named as Vice magazine's third best album of 2017.
This is his first Mercury nomination.
– Everything Is Recorded – Everything Is Recorded
Record producer Richard Russell's debut under the Everything Is Recorded moniker was released earlier this year, and included collaborations with the likes of last year's Mercury winner Sampha, Peter Gabriel and Giggs.
Russell is best known as the boss of record label XL Recordings, which has worked with music heavyweights including Adele, Radiohead, Dizzee Rascal and The xx, among many others.
The record reached number 66 in the charts earlier this year.
– Wolf Alice – Visions Of A Life
Alternative rock band Wolf Alice's second album is also their second to receive a Mercury nod. Their debut My Love Is Cool was shortlisted in 2015.
The acclaimed north London band, fronted by singer-songwriter and guitarist Ellie Rowsell, saw their latest album hit number two in the albums chart, and number one on the independent chart.
Visions Of A Life was listed as NME's second best album of 2017.
– Nadine Shah – Holiday Destination
Geordie singer-songwriter and musician Nadine Shah's third album, her most acclaimed yet, has scored her first Mercury nomination.
The 32-year-old post-punk artist sings about gentrification, the refugee crisis and the failure of politicians in the north of England on Holiday Destination, which reached number 71 on the charts last year.
– Sons Of Kemet – Your Queen Is A Reptile
The British jazz group, fronted by British-Barbadian saxophonist Shabaka Hutchings, have received their first nomination for their third album, which rejects Britain's monarch and offers inspirational black women from history as alternatives.
Hutchings' other group, The Comet Is Coming, were nominated for the Mercury Prize in 2016 for Channel The Spirits.
– Novelist – Novelist Guy
The 21-year-old grime MC and producer, real name Kojo Kankam, unveiled his debut album Novelist Guy earlier this year, after having already made an impact on the industry – he was nominated for the best new grime act Mobo award in 2014.
Despite the Lewisham-based star's record not hitting the official albums chart, the record was widely commended by critics and fans, and has been described as "one of grime's brightest young hopes" by The Guardian.