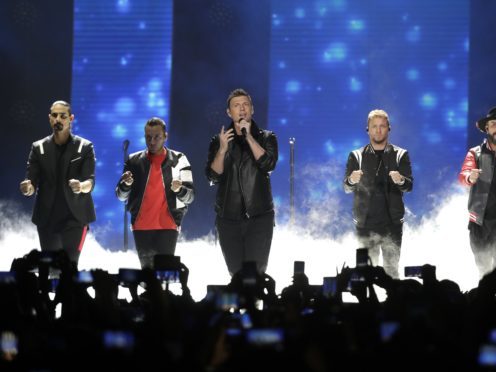 At least 14 Backstreet Boys fans were injured after a metal structure at an outdoor concert collapsed in a storm in the US.
The fans were taken to hospital following the incident, which took place at the entrance to the Oklahoma venue, before the Backstreet Boys were set to begin performing.
The band cancelled the show, writing on Twitter: "We never want to put our fans in harm's way and with tonight's weather and the injuries from earlier, we have decided to cancel the show and will attempt to reschedule.
"The most important thing is for everyone to get home safely and we will see you all very soon!
WinStar World Casino and Resort said in a statement that officials began evacuation of the outdoor concert venue after observing that lightning was within four miles of the casino.
"All patrons in the area were asked to move and to seek shelter from the storm. However, about 150 patrons who were standing in line for the Backstreet Boys concert did not heed staff's warnings," it said.
"The storm hit and knocked over the concert entrance trusses with 70-80 mile an hour winds and heavy rain. 14 people were treated at the scene and then transported to local hospitals. Two have already been released."
It added: "We know that fans often suffer through inclement weather for their favourite acts, but this was an unusual event and our thoughts are with those who were injured during this storm."