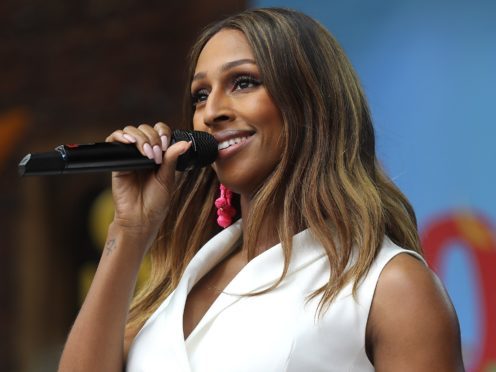 Singer Alexandra Burke has been unveiled as the first ever ambassador for the Notting Hill Carnival.
Her first duty was to open this year's event which carves its way around west London in a mass of music, dancing, bold costumes and floats of entertainers.
After a wave of violent crime in the capital in recent months, Scotland Yard announced knife arches have been placed at "strategic points" along the route to help reassure people about their safety, though the Metropolitan Police did not disclose where.
Burke described it as "a privilege" and "just a bit nuts" to be a carnival ambassador.
It is a year-long role as the voice of carnival, Europe's biggest street party, to help promote the community spirit and positive aspects surrounding the annual event.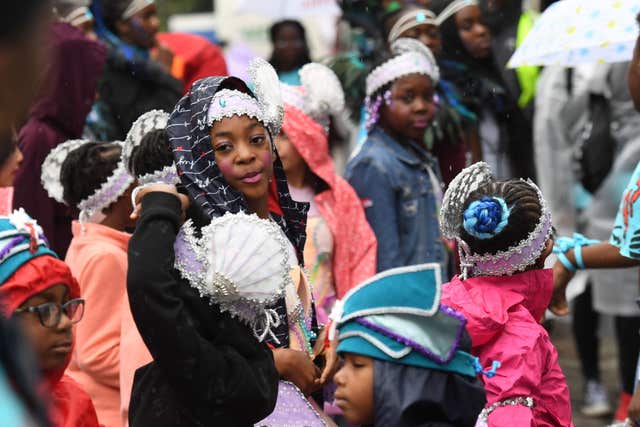 To cheers from the crowd, Burke recalled going to carnival as a her child with her family.
She said: "The one thing that stands out for me about carnival is bringing the community together. It is people coming together and having a fantastic time.
"It is just about a good vibe, good music, good food and amazing people around you.
"So have the best day no matter what the weather is saying."
Skies were slightly overcast and gentle waves of rain hit as the sound systems started to kick in.
It is hoped the "tried and tested" method of knife arches will put off those planning to arm themselves with any offensive weapons – but not everybody will be expected to pass through them, the Scotland Yard said.
The bank holiday weekend event is also being policed by the highest number of officers in six years.
Notting Hill Carnival Limited executive director Matthew Phillip said using the knife arches is part of a wide-ranging "belt and braces" approach to try and make the carnival safe.
He said: "London as a whole and the UK is operating under a backdrop of knife crime, and we are working to have a safe carnival. The introduction of the knife arches is one thing we have as we to try to do that."
"There have been so many other events that have this.
"Notting Hill Carnival is very different because it takes place on the streets. We will have even more eyes and ears on the ground from the community as well as police, and I think that will help to make sure people feel safe and to identify people who come to wrong.
"Most people who come to carnival come to enjoy themselves, and we want that spirit of safety and unity."
Some 13,000 officers are being deployed to the bank holiday weekend event – around 450 more than last year and more than the parades over the past five years.
Almost 7,000 officers, some from the Metropolitan Police's newly formed Violent Crime Task Force, will be policing Monday's event to "combat the threat of violent crime".
This will be up from 6,100 on-duty officers on Sunday's less busy family day.
Undercover police as well as officers from the force firearms and dog units will be in place.
The event is expected to attract more than one million revellers to its floats, food stalls and music.
Using the neighbourhood's local nickname, Mr Phillip welcomed everyone to "the grove" and urged them to enjoy the day.
He said the energetic carnival, which has been brought to London annually for more than 50 years, celebrates "a pride in my community, a sense of unity and a sense of belonging even when among so many strangers".
Mr Phillip said: "Simply put, carnival is collective joy. I know it is safe to say that over a million people come to carnival and experience that collective joy and spirit."
He added it is why carnival has grown, year after year, "from a small community children's fair in 1966 into the immense event it is today".
The music is set to stop for a 72-second silence in tribute to the 72 people who died following the fire at Grenfell Tower in June 2017.
The tower block is within half-a-mile of the parade route.
Revellers have been asked to show respect and some, including Mr Phillip, wore something green for Grenfell in tribute.
He proudly wore a green T-shirt with the words "come unity" across the front.
Mr Phillip said: "Grenfell is very much part of our community. The people who died in the tower and survivors are part of our community.
"Grenfell has affected a lot of people and it is very much a live issue. It is not going away. We still have members of our community in temporary housing. This is to show our support."
Burke later said that what happened at Grenfell Tower was "really devastating", and added: "I think it is important for Notting Hill Carnival to remember them."
Kensington and Chelsea Council's new leader Elizabeth Campbell was among the carnival crowds.
She was chatting with council deputy leader Kim Taylor-Smith and Conservative politician Shaun Bailey, who was bopping to the beat of a passing band of drummers.