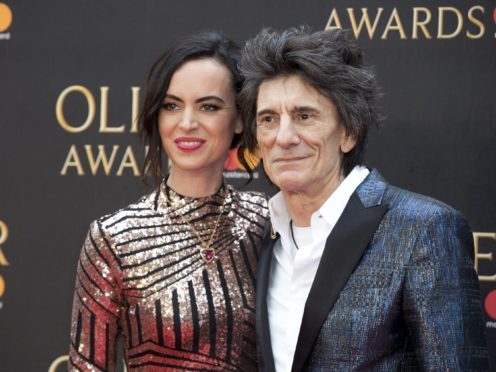 Ronnie Wood's wife Sally Humphreys has said she is keen to have another set of twins with the rock star.
The couple welcomed twin girls Gracie Jane and Alice Rose in May 2016 and, following the 71-year-old Rolling Stone star's battle with cancer, they are keen to expand their family.
Theatre producer Humphreys, 40, told the Sunday Mirror: "I'd love to have twins again. We'd be very happy if more arrive.
"Twins are much easier because they play together.
"Twins again and then we have double everything. We are good to go. I'm 40 now but you never know."
Wood, who married Humphreys in 2012, has six children overall.
The twins are his first with Humphreys, and he also has Jesse Wood with his first wife, former model Krissy Wood; daughter Leah and son Tyrone from his second marriage to Jo Wood; and Jamie, Jo Wood's son from a previous marriage whom Wood adopted.
Wood last year revealed he underwent an emergency operation after being diagnosed with lung cancer.
A smoker before giving up cigarettes the previous year, the former hellraiser said that a doctor made the discovery after he underwent health tests ahead of a Rolling Stones tour.
He opted out of chemotherapy, for fear of losing his hair, and had a small lesion on his lung treated.
Humphreys said that the time around Wood's diagnosis was an "intense week" that was "too much".
She said: "In a period of a week we moved house, the twins turned one and Ronnie had a major cancer scare."
Humphreys added, of the thought of losing her husband: "I can't really go there in my head but it is a part of life.
"Anything can happen to anyone at anytime but it does highlight things. We live in the moment anyway. We don't plan far ahead.
"But it certainly makes you very grateful and appreciative and how fortunate we are."