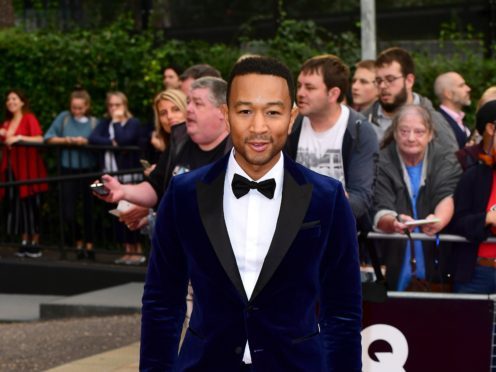 Singer John Legend has admitted he was "stunned" when his friend Kanye West shared text messages the pair exchanged about Donald Trump online.
In April, West shared screenshots of a message from Legend on Twitter after the rapper sparked controversy for referring to the president as "my brother".
When Legend encouraged West not to align himself with Trump, the Ye star accused him of trying to "manipulate my free thought".
The pair have since put aside their differences and were pictured celebrating together at the baby shower for Legend's wife Chrissy Teigen in April.
Legend told The Sun's Dan Wootton on the journalist's podcast: "I was stunned when he posted the texts.
"But then the other side of me was like, 'well I'm glad I said what I said and I'm glad people know what I said to him'.
"So many people were worried that Kanye was saying the things he was saying and that there weren't people advising him differently.
"So, part of me was happy that people saw that I was telling him the truth and telling him how I felt, and I was proud of everything I said to him.
"So I was shocked that he posted it but I was proud of everything I said and stand behind everything I said 100 per cent."
Legend added that West does harbour serious ambitions to run for the White House in 2024 after being inspired by Trump's rise to power.
He said: "Yeah, I think he's serious. I'd guess that he'd run as an independent – but he's never told me anything about what party he would run for.
"He's said multiple times that he's interested in running for president. I think that's part of why he likes Trump.
"I think he sees some aspects of himself in Trump and sees that Trump winning makes it feel like he could do it too."
Legend added that West had been unable to sway him into supporting the President, who the All Of Me singer said had "done enough to get impeached".