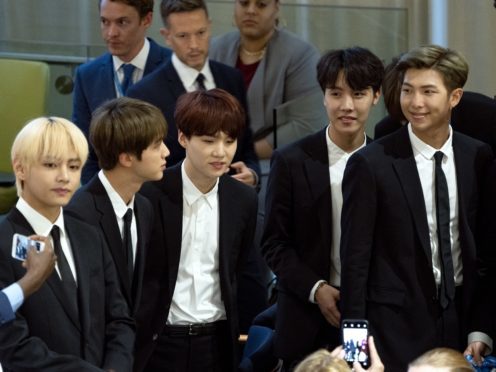 K-pop superstars BTS urged fans to "love themselves" during a historic speech at the United Nations.
The band – the first South Korean musical group to speak at the UN – were invited to discuss their Love Myself campaign, a partnership with Unicef aimed at ending violence against young people.
Kim Namjoon – better known under his performing name RM – delivered the speech on behalf of the group as his bandmates – V, Suga, Jin, Jungkook, Jimin, J-Hope – watched on.
During a six-minute speech in New York, RM revealed the issues he faced while growing up.
He said: "I would look up at the night sky and wonder. I used to imagine I was a superhero who could save the world.
"In the intro to one of our old songs, there's a line that says my heart stopped when I was maybe nine or 10. Looking back, that is when I began to worry about what other people thought of me and started seeing myself through their eyes.
"I stopped looking up at the night sky, the stars. I stopped daydreaming. Instead, I tried to jam myself into the other molds that other people made. Soon, I began to shut out my own voice and listen to the voice of others.
"No-one called out my name and neither did I. My heart stopped and my eyes closed shut. Like this, I, we, all lost our names. We became like ghosts. But I had one sanctuary and that was music."
RM added that despite the band's success, he is "still an ordinary 24-year-old guy" before thanking fans for their "love and support".
He said: "I'd like to ask all of you: What is your name? What excites you and makes your heart beat? Tell me your story. I want to hear your voice and I want to hear your conviction.
"No matter who you are, where you're from, your skin colour, your gender identity, just speak yourself."
BTS have become one of the most popular acts in music since first performing in 2013.
In August, they became the first K-pop group to enter the top 40 of the UK singles chart after their song Idol landed at number 21.
BTS spoke at the UN's 73rd general assembly for Generation Unlimited, a scheme aiming to offer education, training and employment to young people around the world by 2030.