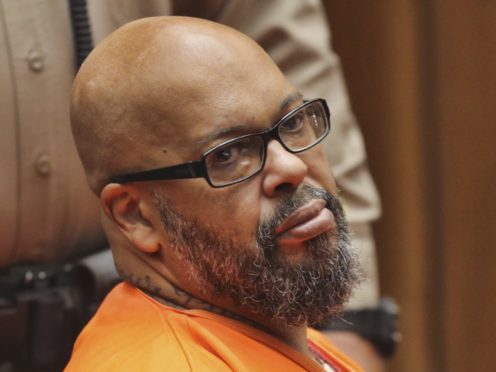 Marion "Suge" Knight has been sentenced to 28 years in prison for mowing down and killing a Compton businessman.
It is a case that completed the former rap music mogul's downfall from his heyday as one of the biggest — and most feared — names in the music industry.
Knight will now likely live out most, if not the rest, of his life in a California prison.
He showed no emotion in court on Thursday as relatives of Terry Carter, the man he killed, described their loved one as a devoted family man and peacemaker.
Mr Carter was killed after Knight and one of his longtime rivals, Cle "Bone" Sloan, started fighting outside a Compton burger stand in January 2015.
Knight was upset about his portrayal in the NWA biopic, Straight Outta Compton, which Mr Sloan was serving as a consultant on.
Knight clipped Mr Sloan with his pickup truck, seriously injuring him, before speeding through the parking lot and running over Mr Carter and fleeing.
While Mr Carter's relatives said they hoped Knight's lengthy sentence will bring them peace, many had no kind words for the Death Row Records co-founder, who they criticised for showing a complete lack of remorse.
Mr Carter's daughter Crystal called Knight a "low-life thug", "career criminal" and "a disgusting, selfish disgrace to the human species.
"I ask that you sentence this unrepentant, remorseless, cold, callous menace to society to the maximum of 28 years," she told a judge.
Before Thursday's hearing, Knight had already agreed to his lengthy prison term by pleading no contest to voluntary manslaughter and avoiding a trial on murder and attempted murder charges that could have resulted in a life sentence if he was convicted.
The sentencing ended a near four-year court saga that included frequent outbursts by Knight, 53, who also collapsed in court during one appearance and shuffled his defence team 16 times.
Between the restrictions of the three-strikes law and the time Knight has already served, he will likely spend roughly 20 years in prison before he is eligible for parole.
Knight has been in decline for decades. At his pinnacle in the mid-1990s, he was putting out wildly popular records that are now considered classics from Dr Dre, Snoop Dogg and Tupac Shakur.
Shakur was in Knight's car when he was killed in a drive-by attack in Las Vegas in 1996.
He later lost his stake in Death Row Records due in bankruptcy proceedings.
Nearly two dozen of Mr Carter's relatives packed the courtroom on Thursday.
His daughter, Nekaya Carter, said she hopes the end of the courtroom saga can bring her some peace.
"I wanted justice for my dad and now we've finally got it, kind of," she said.
She then addressed Knight directly, despite the judge's instructions not to, saying: "My dad can finally rest in peace while you live out the rest of your life in prison."
His sister, Jessica Carter, told Los Angeles Superior Court judge Ronald Coen: "He was so much more than the person the defendant killed with his truck."
There have been disputed accounts of why Mr Carter had been at the scene, but his family said he often acted as a community mediator and peacemaker.
"This wasn't no cat who went after nobody," his brother-in-law Damu Visha said in court. "He helped people."
The death was captured on surveillance video, and family members described their anguish in having to see it repeatedly, and chastised the media for showing it so often.
Mr Coen appeared moved by the family's words and offered his own condolences.
"If it hasn't been said by anyone else, Coen said, "let me tell you, that my heart goes out to you."
Most victim's family members spoke of the need to forgive Knight for their own peace of mind.
"I hope and I pray that we find forgiveness," Terry Carter's cousin Patricia Hawkins said. "But it won't be today."