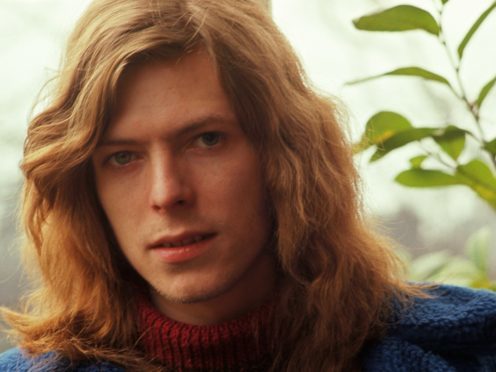 The BBC is to mark the 50th anniversary of the release of David Bowie's track Space Oddity with a documentary detailing the artist's formative years.
The broadcaster said it will also air the late star's headline performance at the 2000 Glastonbury Festival, which has previously not been shown in full.
David Bowie: The First Five Years, which will be shown on BBC Two in 2019, explores the singer's story before he adopted his Ziggy Stardust persona.
The 90-minute film begins in 1966 when a young David Jones changed his last name to Bowie.
It goes on to deconstruct his classics such as Space Oddity and The Man Who Sold The World through eight-track masters and previously unheard demos.
David Bowie: The First Five Years is the final part of a retrospective trilogy focusing on Bowie's life and work.
It follows David Bowie: The Last Five Years in 2017, which aired after his death from cancer at the age of 69 in January 2016, and the Bafta-winning David Bowie: Five Years in 2013, which were both produced and directed by Francis Whately.
In one of the archive clips featured in The First Five Years, Bowie says: "I spent all my formative years adopting guises and changing roles, just learning to be somebody.
"I wanted to be accepted as David Bowie – a person that you will always watch to see what kind of thing he is doing."
Whately said: "Making this trilogy has been an incredible experience for me, unearthing rare recording, footage and archive, and the privilege of speaking to so many of his friends and collaborators who were so open in talking about the Bowie they knew, loved and admired so much.
"He is possibly now even more famous in death than in life and I hope this film will bring some new understanding to this great artist from the early years of his incredible life."
BBC Two channel controller Patrick Holland said: "Francis Whately has already created two stunning films about transformative chapters in the extraordinary life of David Bowie.
"This third film completes that trilogy with the most important and surprising period, the first five years. We are delighted to play it in BBC Two."
The BBC will air Bowie's headline performance at Glastonbury 18 years ago, which saw him close the festival as he returned for the first time since 1971.
The full set saw him perform for two hours, but, at his insistence, only half an hour was shown on TV at the time.
An hour of highlights from the performance will be broadcast on BBC Four in October.
David Bowie: The First Five Years will be screened on BBC Two in 2019.