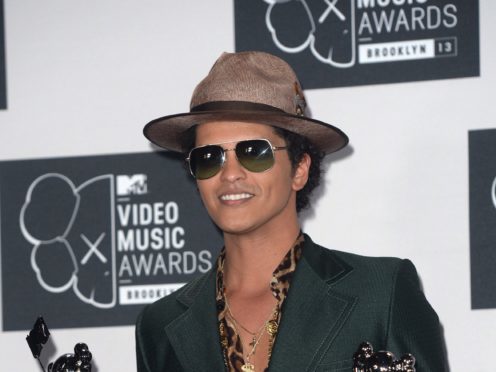 Ed Sheeran serenaded Bruno Mars for his 33rd birthday.
In a video, posted to Mars' Instagram account, the American star was seen tucking into a birthday cake adorned with letters spelling out his first name.
Sheeran, playing a guitar, then kicked-off a rendition of Happy Birthday To You, adding: "Happy birthday two-time Super Bowl-performing Bruno."
Mars, known for songs including Uptown Funk and That's What I Like, headlined the Super Bowl half-time show in 2014 and joined Coldplay and Beyonce for the 2016 show.
When the British singer-songwriter, 27, finished, Mars tapped his knife against a glass and said, "again", leading to another performance from Sheeran.
Mars captioned the video: "You know you've made it when you can hire Ed Sheeran to sing you Happy Birthday! #ExtraForever! #HappyBrunoMarsDay!"
The two global superstars will go head-to-head on Tuesday at the American Music Awards in Los Angeles, where they are both nominated for tour of the year.
In total, Sheeran is up for six awards while Mars is competing in four categories.