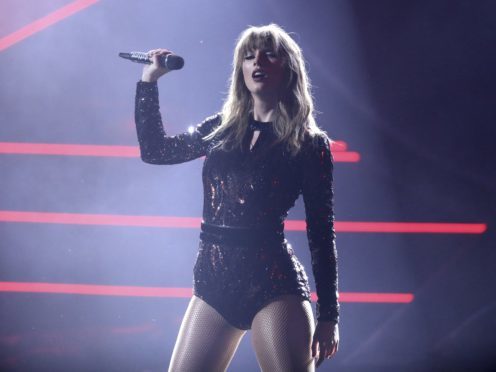 A triumphant Taylor Swift urged people to vote in November's US midterm elections as she swept the board at the American Music Awards (AMAs).
The popstar – who on Sunday broke her long-held silence over political matters to announce she is voting for the Democrats – scooped tour, album, female and artist of the year.
The gongs brought her to a career total of 23 AMAs, meaning she overtook Whitney Houston for the most wins by a female artist at the fan-voted show.
Accepting the artist of the year prize on stage, Swift said: "I just want to say to the fans, you have been so nice to me and fun and funny and so cool and so loyal, and it's not lost on me, I understand how lucky I am."
She added that the awards represented "encouragement and motivation to be better and work harder".
Referring to the fact the awards were "voted for by the people", Swift said: "You know what else is voted on by the people?", before telling fans to "get out and vote" at the midterm elections.
There was a political undercurrent to Tuesday's show at Los Angeles' Microsoft Theatre, and before Swift took to the stage, fans were urged to vote during an impassioned plea by American Horror Story star Billy Eichner.
He told the audience they should register to vote if they cared for "equality for women, for people of colour, for the LGBTQ community, if you believe that climate change is real".
The speech was welcomed by loud applause while host for the evening, American comedian Tracee Ellis Ross, wore a T-shirt bearing the slogan "I am a voter".
Elsewhere, Swift was not the only major celebrity to perform, with both Mariah Carey and Jennifer Lopez taking to the stage. They were joined by Post Malone, Camila Cabello and British star Dua Lipa.
Other winners on the night included Migos, Shawn Mendes, Cabello and Carrie Underwood.
Migos were acknowledged as the favourite duo in the pop/rock category, Mendes won the adult contemporary artist, Cabello's Havana took pop/rock song and Underwood was recognised as the favourite country music female.
Cardi B won the favourite rap artist gong and thanked her three-month-old daughter, Kulture.
Late rapper, XXXTentacion, who was gunned down in June aged 20, won a posthumous award.
His album 17 was recognised in the soul/R&B category, seeing off competition from Khalid and SZA.
XXXTentacion's mother, Cleopatra, accepted the prize on stage.
Fighting back tears, she said: "I am honoured. On behalf of my son, I would like to thank the AMAs, his fans and everyone who made this possible. Thanks guys, I appreciate it."
There was also a tribute to the Queen of Soul Aretha Franklin, who died in August.