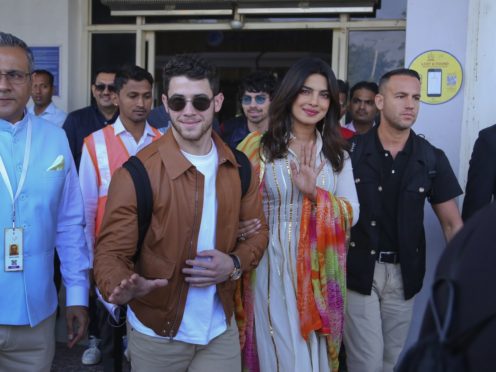 Priyanka Chopra and Nick Jonas have shared a glimpse behind the scenes of their wedding celebrations.
The couple posted pictures from their Mehendi ceremony in Chopra's native India – a pre-wedding ritual which sees family and friends gather as the bride has henna designs drawn on her hands and feet.
In identical posts on social media, Chopra, 36, and Jonas, 26, said the festivities had "kicked off the celebrations in the way we both dreamed".
They added: "One of the most special things that our relationship has given us is a merging of families who love and respect each other's faiths and cultures.
"And so planning our wedding with an amalgamation of both was so so amazing. An important part for the girl in an Indian wedding is the Mehendi. Once again we made it our own."
The photos alongside the post showed the smiling couple in traditional Indian dress, with Bollywood star Chopra, who appeared in TV drama Quantico, wearing a bright multi-coloured gown.
The pair are said to have gone on to tie the knot in a Christian ceremony on Saturday.
Both Chopra and Jonas wore designs by Ralph Lauren, the designer tweeted.
The couple started dating earlier this year and confirmed their engagement in August.
Chopra rose to fame as the winner of the Miss World 2000 pageant before going on to star in Indian films, while Jonas is a singer/songwriter who was a member of pop group the Jonas Brothers.