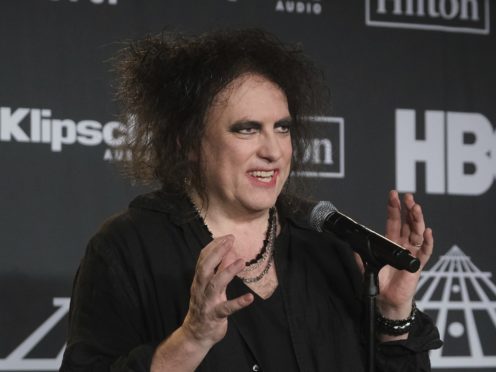 The Cure, Radiohead and Def Leppard were among a strong British showing as the Rock and Roll Hall of Fame opened its doors to seven new members.
Roxy Music and The Zombies completed the UK offering, while Stevie Nicks and Janet Jackson rounded off this year's intake at a star-studded ceremony in New York.
Artists can only be inducted into music's pantheon 25 years from the release of their debut record and are voted in by a panel of industry experts and fans.
Nicks, who was making history on the night as the first female to be inducted twice, said she was "opening the door" for other women.
The singer, 70, had previously been recognised for her work with Fleetwood Mac but was honoured on Friday for her solo career.
Nicks urged other female artists to break away from bands to do work on their own, telling the audience more women would follow in her footsteps as she was "going to give you all the directions".
Nicks added: "What I am doing is opening up the door for other women."
Nicks, who was inducted into the Hall of Fame with Fleetwood Mac in 1998, opened the show at Brooklyn's Barclays Centre with a performance of her 1983 hit Stand Back.
Later, Jackson echoed Nicks' speech of female empowerment by calling for the Rock Hall to induct more women in 2020.
Jackson said "never in a million years" did she expect to follow in the footsteps of her brothers, The Jackson 5, in being inducted.
The 52-year-old said she watched her siblings – Tito, Marlon, Michael, Jackie and Jermaine – being inducted in 1997 before smiling and saying: "Tonight, your baby sister has made it."
Jackson said her brothers' success fuelled her own appetite for stardom and that she wanted to "stand on my own two feet".
She revealed her late father, Joe, steered her away from a career in law and into music, adding: "I want to begin by thanking my incredibly strong family, my wonderful mother and father as well as my sisters and my brothers."
Robert Smith, the only constant in The Cure, a group known as much for its revolving door policy for members as its seminal post-punk music, kept his acceptance speech short.
Surrounded by band members past and present, he thanked fans and "everyone who bought a record".
"We love you, too," Smith added. The Cure then performed a medley of tracks, including Lovesong, which was covered by Adele on her best-selling 21 album.
Bryan Ferry, Phil Manzanera, Andy Mackay and Eddie Jobson took to the stage to accept Roxy Music's elevation to the Hall of Fame, though Brian Eno and Paul Thompson did not attend.
Graham Simpson, who died in 2012, was also inducted.
The band, formed in 1970, treated the audience to some of their biggest hits, including In Every Dream Home A Heartache, Out Of The Blue and Love Is The Drug.
Thom Yorke of Radiohead had previously revealed his ambivalence towards the Hall of Fame, explaining as a Briton he did not "understand it".
Yorke, perhaps unsurprisingly, did not attend and neither did two other members of Radiohead, with Jonny Greenwood and Colin Greenwood giving it a miss.
However, Philip Selway and Ed O'Brien were on hand to accept on their band mates' behalf.