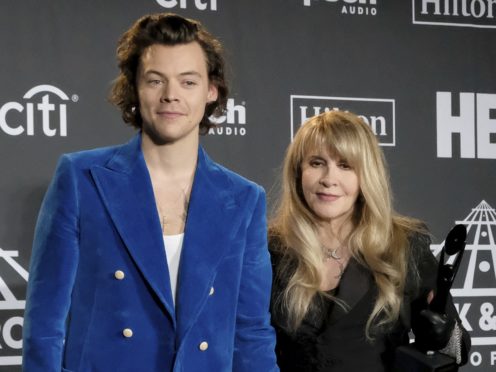 Stevie Nicks accidentally referred to Harry Styles as a former member of NSYNC after he inducted her into the Rock and Roll Hall of Fame.
Styles, who found fame in One Direction, performed alongside Nicks at the ceremony with a version of her hit with Tom Petty, Stop Draggin' My Heart Around.
Speaking to reporters backstage, Nicks, 70, praised 25-year-old Styles' solo career but opened with: "When he decided to make a solo record from NSYNC…"
US boyband NYSNC were formed in 1995 and launched the career of Justin Timberlake.
According to the Associated Press, journalists corrected Nicks, who smiled when told of her mistake.
She continued with her praise, saying Styles' debut album had an old-school rock sound which differed from the pop of One Direction.
Nicks said Styles "toured that record right into the ground" adding: "He should have been born in 1948, too."