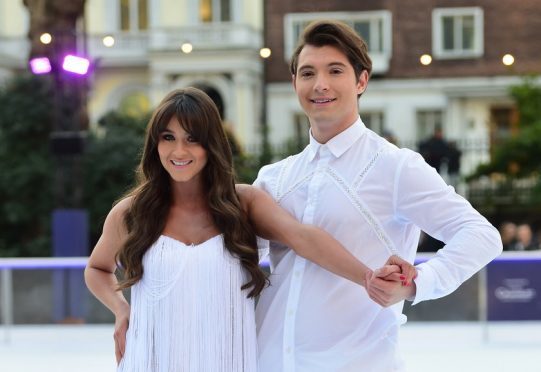 Dancing On Ice star Brooke Vincent says rehearsing the routines has left her bruised and dizzy.
The 25-year-old Coronation Street star, who plays Sophie Webster in the ITV soap, has joined the skating programme alongside the likes of Cheryl Baker, Kem Cetinay, Donna Air, Antony Cotton and Candice Brown.
She said: "I've only just realised I don't have much co-ordination… I'm really struggling with my dizziness."
And she added: "I've got a lot of bruises. I was showing off in front of 10 year-old girls the other day… and the next minute I was on the floor."
Vincent said that she would "rather be watching it at home, on the couch with a big box of chocolates laughing at people falling over" than competing on the show.
She said of balancing her training with filming Corrie: "I've been getting up at 5am, doing 6am to 8am training, and then I go to work until 7pm.
"I've done that for four or five weeks now. It's hard but I've realised you don't get any further for moaning."
Vincent, who embarked on a 12-week health kick to get into "extra shape", said she "enjoyed" the training and wants more time on the ice, but admitted: "It's all just too much sometimes. It's definitely been a challenge."
Meanwhile, fellow Corrie star Cotton said going on the show – which he had turned down in previous years – had been a "learning curve" and that he had "pulled muscles in places I never knew I had".
The actor, who plays Sean Tully on the cobbles, said he was keeping his head down.
"I'm not making a fool of myself on national TV because somebody's drawn me into messing around," Cotton said.
And he said acid-tongued judge Jason Gardiner "will be more tough on me than anyone else" despite the fact that the pair are "great friends".
"He will be cruel to me, I know he will… If he's going to throw shade I'll throw a shade grenade!," Cotton said. "He will be vile about me. Jason's got a job to do."
Dancing On Ice, hosted by Phillip Schofield and Holly Willoughby, returns to ITV on January 7.