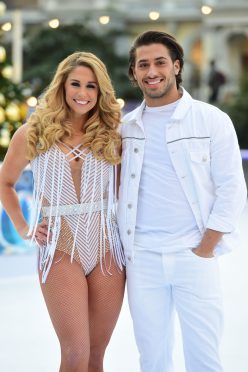 Love Island winner Kem Cetinay says he hopes his Dancing On Ice costumes will be as over the top as possible.
The reality show star, who won legions of fans on the ITV2 show for his friendship with fellow contestant Chris Hughes, said he is hoping to have the most dramatic outfits possible in the skating competition.
He said: "I'm so extra it's a joke! I want more colours, more sequins. I love that type of stuff.
"If you're going to do it, you might as well do it properly.
"I don't want to wear a basic outfit, I want to be over the top. That's just the way I am."
Cetinay, who won Love Island with ex-girlfriend Amber Davies, said Hughes has promised to come to support him at as many of the live shows as possible when the series begins on ITV on January 7.
However, the TV star said he is nervous about facing the judges at the end of each performance.
He said: "I'm not very good at taking criticism, my mum and dad say.
"I'm getting better I think, but I'll probably be a bit scared of the judges. If they give me criticism, I'll stand there like a little boy being told off.
"But I'll be working myself up, so if they give me criticism I will be going home and analysing it, trying to improve.
"So in some ways it will help me because it will make me more competitive."
His fellow contestant and reality show star Candice Brown, who triumphed in the Great British Bake Off in 2016, said she would also be analysing the comments of the judges.
She said: "Fear makes you practice, doesn't it?
"It was the same on Bake Off. I didn't want to fail, so I practised and you just have to hope you get a little bit of luck along the way. I'm looking forward to it more than anything."
She continued: "I like asking questions – what can I do to improve and get better?
"And it was the same on Bake Off, I wanted to know why something had gone wrong, what they would have done differently and how I could have improved. I like to learn new things and I want to know about it.
"That constructive side of criticism is so important and I will take their feedback on board because I will want to progress.
"I don't know what I'm doing so if someone is telling me 'you need to do this to get better' then I will."