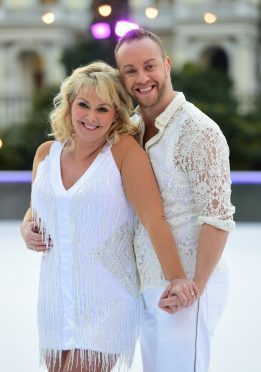 Cheryl Baker has admitted the biggest appeal of Dancing On Ice is the opportunity to get in shape.
The former Eurovision Song Contest champion said she was inspired to take part in the show after seeing the transformation of her friend Linda Lusardi after she competed in the ITV programme in 2008.
Baker said: "I'm hoping to shape up. I saw Linda Lusardi after she did Dancing On Ice and she looked fantastic, all of her muscles were in the right place and she didn't have an ounce of fat on her.
"She said it was because of Dancing On Ice. That workout, you're not just dancing, you're really using all of your muscles so I'm looking forward to toning my body up."
She added that she hopes the show will help give her a defined waist.
Asked how she felt about the sequins and sparkly costumes she will wear, she replied: "I love it! It's every little girl's dream, the only trouble is I wish I had the little girl's figure again!
"After you have children and after you go through the menopause, all of a sudden you have no waist, I don't know why.
"There is this thing that happens. You suddenly wake up after the menopause… I don't need air, I don't need breath, I just need them to squeeze my stomach in so I have some kind of shape. I've got boobs and I've got a bum, I just need a waist now."
Hollyoaks star Stephanie Waring also said she hopes to see a change to her body from the show, saying: "I want a new bum. I'm doing this to get my bum lifted off the floor!
"I do yoga a lot to help with my flexibility and core and strength. I'm trying to put a few pounds on me as well because I know I'll lose weight
training. I want to get strong."
The actress said the show will unleash the competitive side she was not aware she had.
She continued; "I didn't think I was, until I got this. But now I think I am.
"I want to do well. I will push myself. I'm not timid in that way where I think 'I can't do it.' I'll push myself to get the best result.
"In terms of my co-stars, Jorgie Porter is actually my favourite contestant of all time. I was mesmerised watching her. I would love to be as good as her."
Dancing On Ice returns to ITV at 6pm on January 7.