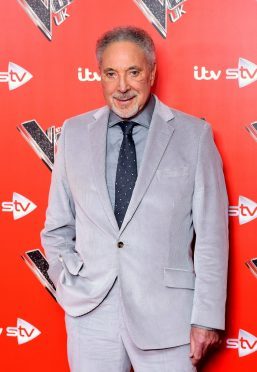 Sir Tom Jones has joked that he would like to fill an extra slot on his The Voice UK team, with one act's grandmother.
As the ITV contest returned on Saturday night, one unexpected star made an especially big impression.
After 16-year-old singer Donel Mangena impressed all four coaches with his rendition of Major Lazer and Justin Bieber's Cold Water – incorporating some lines in his family's native Zimbabwean language – his beloved gran ran onstage to perform some moves of her own.
While the young singer chose to join will.i.am's team to go through to the next battle round, Sir Tom posted on Twitter: "I want @officialdonel's grandmother on #TeamTom #TheVoiceUK."
Giving his seal of approval, Mangena replied: "She's got the energy."
The delighted student also gave a grateful shout-out to viewers, posting: "Thank you all for sharing this moment with me."
The rip-roaring first episode of the new series saw a further five acts secure their positions.
New panellist Olly Murs successfully pitched for Lauren Bannon and romantic duo Ryt (Ryan and Tania), while Sir Tom Jones claimed guitarist Chloe Jones.
Meanwhile, Jennifer Hudson recruited opening act Jake Benson, after putting him through his pitch paces, and gospel singer Jason Nicholson-Porter, after sending his children around the audience with her personalised charity collection plate.
Hudson also brought theatre to the show as she jokingly threatened to fist-fight Murs for a contestant and broke into spontaneous song with Sir Tom.
::The Voice UK continues on ITV at 8pm next Saturday.