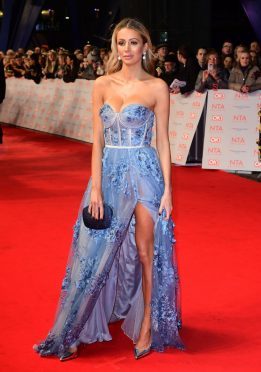 Love Island star Olivia Attwood has hit back at reports that she has dropped three dress sizes and said it is "irresponsible" to claim that she has.
The reality TV star, who came third in the hit dating series last year along with her partner Chris Hughes, said she has lost some weight in recent weeks "due to stress".
However, she said she had not dropped from a size 12 to a size 6 after a magazine – which she did not name – reported that she had.
She added that she was concerned about the message her reported weight loss would send to her younger fans.
Attwood wrote on Twitter: "I would like to clear this up. I feel really strongly about the sensitive issues around weight – I have never been a size 12 nor have I claimed that I was on my time in Love Island.
"That being said there is nothing wrong with being a size 12 but clearly I was not, and I do not want my younger followers to be mislead (sic).
"I take most stories with a pinch of salt but I have been very misquoted in a certain magazine this week and am really disappointed, it's totally irresponsible to print that I have claimed I dropped from a size 12 to a 6, which is not the case.
"I have lost some weight in recent weeks due to stress and other factors, but my natural frame has always been very similar to what it is now."
Attwood added: "We already have a battle to fight with girls and their body image and this kind of false reporting does not help."
Amber Davies, who won the ITV2 reality show last year with Kem Cetinay, responded to her post: "Well I just love you."