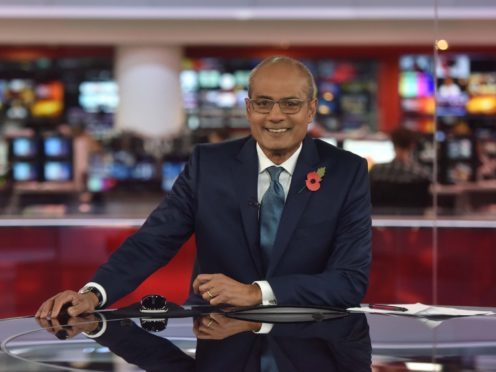 BBC newsreader George Alagiah said his cancer was caught "very late" and may have been detected earlier if England had similar screening procedures to Scotland.
The 62-year-old presenter, who lives in London, discovered his stage four bowel cancer had returned before Christmas.
In Scotland both men and women are automatically offered screening for bowel cancer every two years from 50 years old – yet in England it starts at 60.
The chance of survival for five years or more for those with stage four bowel cancer is less than 10% – however if it is caught at stage one the chances are near-100%, according to Cancer Research UK.
Speaking to The Sunday Times, Mr Alagiah said: "Had they had screening at 50, like they do in Scotland … I would have been screened at least three times and possibly four by the time I was 58…
"We know that if you catch bowel cancer early, survival rates are tremendous. I have thought: why have the Scots got it and we don't?"
The Sri Lankan-born newsman, who is married with two sons, then tweeted on Sunday: "My cancer was caught late, very late.
"Earlier screening is the key. Simply no reason why others should have to go through all the treatment that I've had."
He was initially diagnosed with the disease aged 58 in 2014 after noticing blood in his stools.
It had spread to his liver and lymph nodes and he endured rounds of chemotherapy and several operations, including the removal of most of his liver.
In October 2015 he announced his treatment was over and returned to BBC News At Six.
Mr Alagiah told the newspaper he was supporting a campaign by Bowel Cancer UK to make screening available to everyone in England from 50.
The disease kills nearly 16,000 men and women annually in the UK, the charity said.
It is the second most common cause of cancer death in the UK, behind lung cancer.
Mr Alagiah joined the BBC in 1989 and spent many years as one of the corporation's leading foreign correspondents before moving to presenting.
He has been the face of News At Six since 2007.
Professor Anne Mackie, director of programmes for the UK National Screening Committee said: "The UK's independent screening committee is currently consulting on some possible changes to the current bowel cancer screening programme.
"This includes starting screening at an earlier age.
"All comments will be considered by the committee ahead of its formal recommendation in the summer. Until this time, the programme will remain unchanged.
"The new Faecal Immunochemical Test (FIT) will be rolled out nationally as part of the bowel cancer screening programme in 2018/19 and will detect more cancers earlier and save more lives."