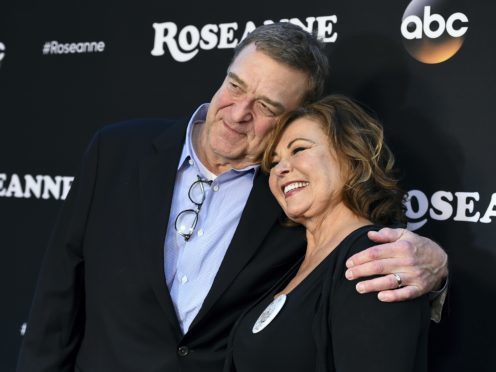 Viewers were eager to see the US television reboot of Roseanne, with an estimated 18.4 million tuning in to its debut on ABC.
The updated sitcom starring Roseanne Barr returned on Tuesday in America, more than two decades after the original ended its hit run.
The hour-long debut episode was watched by 10 percent more viewers than saw the May 1997 finale of the original run.
NBC's Will & Grace also returned this season with its original 1998-2006 cast to a debut audience of 10.1 million viewers and was quickly renewed for a second and then a third season.
In its first year back, the NBC show is averaging 5.7 million people watching episodes on the day they air. But with the time-shifting viewership that networks are focusing on, the Will & Grace audience averages 9 million per episode over a seven-day period.
Roseanne's estimated audience growth from the first half-hour (18 million) to the second (18.9 million), is a sign that viewers liked what they saw.
The revival had a coat-tail effect for the ABC shows that followed, significantly boosting viewership for Black-ish and helping to launch the new Jenna Fischer-Oliver Hudson comedy Splitting Up Together.
Barr is back as the matriarch of the Conner family, with other returning cast mates including John Goodman, Laurie Metcalf, Sara Gilbert, Michael Fishman and Lecy Goranson.
The family is grappling with new sets of personal issues and political realities: Roseanne embraces President Donald Trump while her sister Jackie (Metcalf) is a staunch opponent, leaving the two at odds.
Barr says she thought it was important to show how the Conners deal with the same issues that many American families currently face.
"It shows people's different opinions and how they resolve them," Barr, who counts herself as a Trump supporter, said at the show's New York premiere on Monday.
"I saw it happening in all the families I know, so I thought, 'Well this is, you know, it's good, hopefully it will get people talking to each other'."