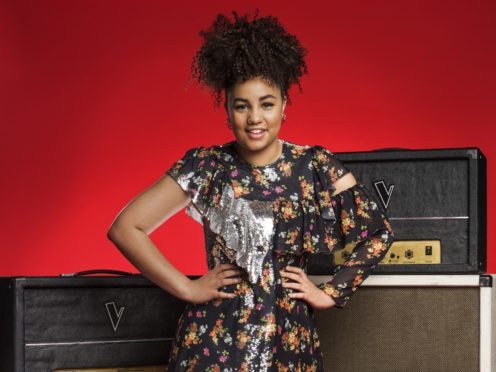 Ruti Olajugbagbe has been crowned the winner of The Voice UK.
The 18-year-old student from Essex was led to victory by mentor Sir Tom Jones, and fended off competition from Donel Mangena, Belle Voci and Lauren Bannon in the series finale.
Olajugbagbe was shocked as her name was announced by the programme's host Emma Willis.
Holding back tears, she said: "I wasn't expecting this… I didn't expect to get to the blind audition, I don't know what to say!"
Olajugbagbe, who has won a record deal, thanked Sir Tom for his support and for believing in her.
Her version of Dreams by The Cranberries will be her debut single, to be released immediately after the ITV programme's finale.
She and Welsh singer Sir Tom had performed a duet of Louis Armstrong classic What A Wonderful World during the show.
She also sang If You're Not The One by Daniel Bedingfield and Dreams, her "song of the series", after she and Mangena were revealed to be in the final two.
Earlier in the show, Olajugbagbe said Sir Tom had "always believed in me, since the blind auditions".
"He's always been there for me and told me to be myself. It's amazing that he thinks I'm that good," she added.
Sir Tom said she is a "wonderful, magical, sincere" singer, and that he is touched by her voice.
Mangena, 16, had been a favourite throughout the series and even has a fan in Prince Harry, who invited the teen to perform at the Queen's 92nd birthday celebrations this month.
During his final performance of Major Lazer's Cold Water, Mangena was joined by his beloved grandmother on the stage for a dance.
She had done the same earlier in the series to much fanfare, and the repeat performance was met with applause from the audience.
Mangena had taken to the stage with his coach Will.i.am, covering his track OMG that the music star originally released with Usher.
Operatic duo Belle Voci performed a rendition of Celine Dion's My Heart Will Go On with their coach Jennifer Hudson, while Bannon and her mentor Olly Murs sang Ain't No Mountain High Enough.