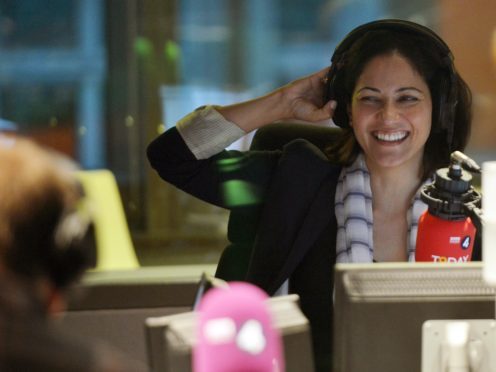 Today programme host Mishal Husain joked that Jon Snow was "not the first person" to use the "waking up with line" after he presented the broadcaster with an award.
Husain won best individual contributor to radio at the Voice Of The Listener And Viewer (VLV) ceremony, beating Eddie Mair, John Suchet and other names.
"This is the award I've been girding my loins to present… The winner is somebody I admire enormously", Channel 4 News anchor Snow, who was presenting the ceremony, said.
"I really do think she is a truly exceptional broadcaster and I love waking up to her," he joked of the Radio 4 programme's early start.
Husain quipped back: "You're not the first person who has used the 'waking up with' line, but from you it's fine!"
She said the award "wouldn't go to her head… because a few years ago, after a ceremony like this, I went home and said to my children, 'I won an award today'.
"They said: 'Oh, what was the award?' and I said: 'Broadcaster of the Year'. At which point they looked really puzzled and said: 'But what about (Today co-presenter) John Humphrys?'
"I'll be having the same conversation tonight."
The broadcasting awards also honoured Professor Mary Beard, Laura Kuenssberg, Line Of Duty, Blue Planet II, Unreported World, W1A, BBC's Wimbledon coverage, Dead Ringers and More Or Less.
The BBC's and Channel 4's news teams were presented with an award for their fact-checking services to combat fake news.
Programmes, individuals and channels are nominated and voted for by VLV members – their viewers and listeners.
Chairman Colin Browne said: "Despite the huge challenges and seismic changes in how audiences consume content, these awards demonstrate that 2017 was a year in which British broadcasters provided a huge range of quality and diverse programmes for listeners and viewers. "
"They include comedies, drama and factual programmes, as well as notably featuring high quality news journalism at a time when reliable, accurate news is being valued more highly than ever."