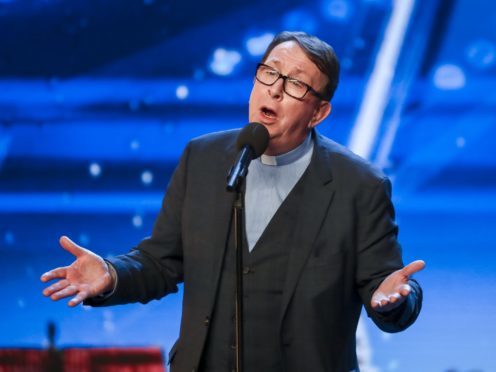 A singing priest from Ireland who impressed judges on Britain's Got Talent received a round of applause at Sunday mass.
Ray Kelly, 64, sang REM's Everybody Hurts in the programme broadcast on Saturday night. It received the plaudits of judges Simon Cowell, David Walliams, Alesha Dixon and Amanda Holden.
He is parish priest in Oldcastle in Co Meath, where mass goers gave him an enthusiastic reception.
He said: "I knew I could put in a fairly good performance but I was amazed at their (judges) comments.
"I was really blown away by Simon's comments and David, Alesha and Amanda."
The clergyman said he was thrilled.
"I am in awe and humbled by it, I really was not expecting it."
Fr Kelly's parents were musical.
He recalled: "It was all there growing up as kids. We were held up like trophies."
The gifted priest has always watched Britain's Got Talent, saying "it is a great variety show", but thought carefully before giving it a go.
"I put myself forward but you never know.
"I did not know what to expect."
Fr Kelly's vocal talents previously went viral after a recording of him singing Leonard Cohen's Hallelujah at a wedding in 2014 received over 60 million views on YouTube.
After he finished his Britain's Got Talent performance there was a silence and he wondered whether they wanted him to walk off the stage.
Then Cowell stood up and started applauding and that was followed by warm comments from the judges who described his rendition of the REM hit as "beautiful" and said they loved it.
Fr Kelly's family had organised Britain's Got Talent parties to watch the performance.
He was placed into the next stage of the contest.