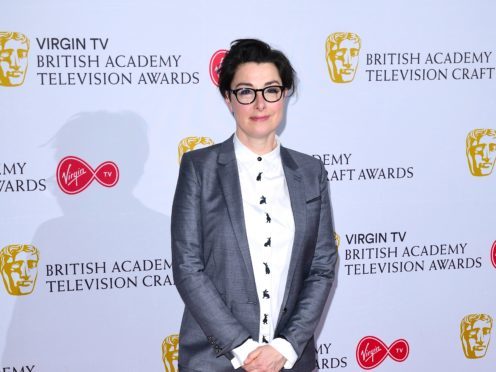 Sue Perkins made jokes about gender inequality, the Harvey Weinstein scandal and Piers Morgan as she hosted the Bafta TV awards.
The comedian opened the ceremony at London's Royal Festival Hall by making a joke about the Scots Guards heralding her arrival on stage.
"Typical of course, 10 men blowing their own trumpets before a woman even so much as opens her mouth," she quipped, going on to joke that Bafta was the "original home of the hostile environment".
The star then referenced her own departure from The Great British Bake Off, telling the audience: "I'm Sue Perkins. You might know me from leaving some of the most successful shows on television."
She went on: "What an honour it is to present this most stellar of evenings.
"I don't want to ignore the elephant in the room but on such a prestigious occasion I feel it would be crass and borderline inappropriate to discuss my fee for tonight.
"So let's just say I'm going to be putting in half the effort. To be honest I haven't even cleaned my teeth."
The audience laughed as she added: "A woman may be hosting this evening but don't worry, I've still got two big fellas up there to keep an eye on me. You know, just to make sure my driving is all right."
Perkins then teased her comedy partner Mel Giedroyc, who was in the audience, saying that the building, and Giedroyc, were both celebrating 70 years in the arts.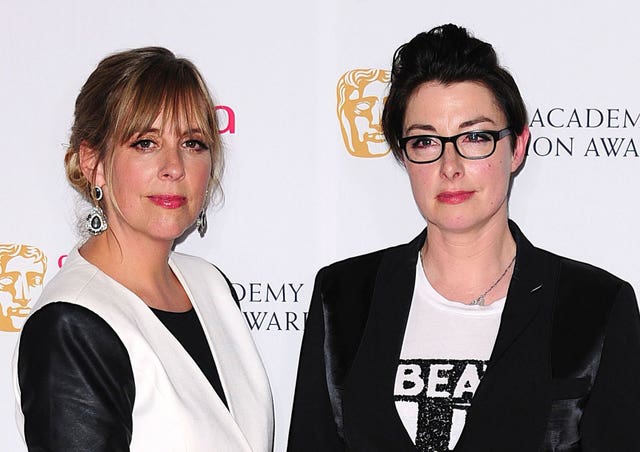 Commenting on the set, she said it summed up the television industry as it was "glitzy, glamorous and most importantly two-faced".
Appearing to take a thinly-veiled swipe at Good Morning Britain host Piers Morgan, she gestured at the large instrument near her and said: "Turns out tonight I'm having to work alongside a massive organ.
"Now I know how Susanna Reid feels on Good Morning Britain."
Perkins went on to have light-hearted pop about reality TV show Love Island, which has been a huge hit.
"We are in for a cracking night tonight celebrating some of the finest talent from a year of incredible British television," she said.
"And the cast of Love Island are here."
She continued: "If you haven't seen that show it's about decent hard working people being callously sent home from an island they love.
"Thank God that could never happen in real life.
"Which gets me thinking if arriving on a boat from another county is now a crime then the next series of Cruising With Jane McDonald is going to be in a whole hell load of trouble."
Perkins drew laughs when she talked about the pictures of the Duchess of Cambridge after she welcomed her new baby last month.
"I'm not saying there was pressure on Kate to look perfect afterwards but apparently she couldn't hear if it was a boy or a girl over the sound of the hair-dryer," she teased.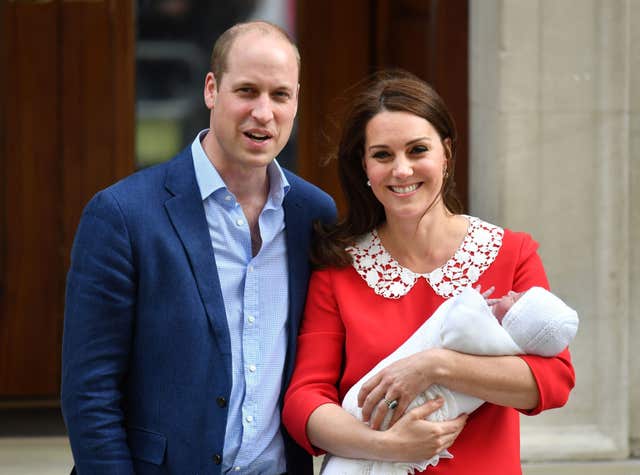 The audience were also amused when she joked that actress Jodie Whittaker was the best choice to take over the Tardis from Peter Capaldi.
She said: "The fantastic Jodie Whittaker became the first ever female Doctor Who and much controversy followed of course, because apparently some fans of space travel in a phone box, sonic screwdrivers and intergalactic alien races found it difficult to imagine that.
"For me, I think Jodie was the perfect choice because if there is one thing this year has taught us, if anyone has experience of fighting off grotesque monsters it's an actress…"
Towie came under fire when Perkins was discussing the fact that Blue Planet II had raised awareness of the damage single use plastic is doing to our environment.
"Plastic finds its way into rivers, oceans and some even found its into the cast of Towie," she laughed.
As she started to wrap up, the star said the quality of British drama this year had been outstanding.
"The Crown, Peaky Blinders, Line Of Duty… I suspect some of you have had a couple of lines of duty tonight," she joked.
As she ended her monologue, Perkins said that, like every year, the winners were a closely guarded secret.
"Facebook knows obviously but apart from that we are all in the dark," she quipped, as the crowd clapped.