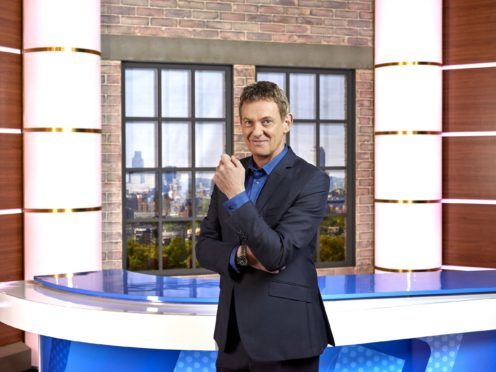 Matthew Wright has some advice for his successor as host of The Wright Stuff – book some time off.
Wright hosted his final episode of the current affairs programme today after 18 years and is due to hand over to Jeremy Vine, who will front his first episodes in September.
During his tenure on the show, Wright has presided over thousands of topical debates and praised Channel 5 for encouraging him to "be naughty and explore my imagination".
Asked to offer advice to his successor, the 52-year-old presenter told the Press Association: "I'd tell him, 'make sure you book some holiday'. He's going to be knackered and need a break.
"I don't know whether I will still be watching because my rule is to never look back.
"Jeremy has a massive task on his hands. I wish him all the best. It is quite an undertaking."
After fighting back tears during his on-air swansong, Wright said he "keeps crying" when he thinks about his farewell.
He added: "There must be a lot of dust in the atmosphere. It has been extraordinarily emotional and a few drinks last night probably didn't help.
"The hardest part is saying goodbye to the viewers. It has been emotional receiving all of the messages."
The presenter said he plans to take a few months off before moving on, but he will make his debut on political debate show Question Time this evening.
He will be joined by journalist Isabel Oakeshott, Conservative MP Dominic Grieve, Labour MP John Mann and Plaid Cymru leader Leanne Wood.
Wright said: "It is very lovely to finally get the chance to do it. It has taken 18 years to catch their attention.
"Isabel Oakeshott is there and I am looking forward to discussing Arron Banks and his Russia links.
"I will also be asking Dominic Grieve what is going on with Brexit because the last few days have made things even more confusing. It will be very interesting."
Wright, who entered the Australian jungle for I'm a Celebrity… Get Me Out of Here! in 2013, said viewers should not expect to see him wearing sequins on BBC One's Strictly Come Dancing this year, though he did not rule out a stint on the show.
He said: "I don't know if throwing somebody around on the dance floor is ever going to happen. It's the same with Dancing On Ice – one fall is really going to hurt me. It will end up putting me in a wheelchair.
"But never say never."
In terms of next steps, Wright is looking to make the move from television to radio.
He said: "I am still interested in TV, but I don't know if I will be up at four in the morning five days a week again.
"I think right now radio is doing a much better job of explaining what is going on. They do a brilliant job of explaining the machinations of our time."