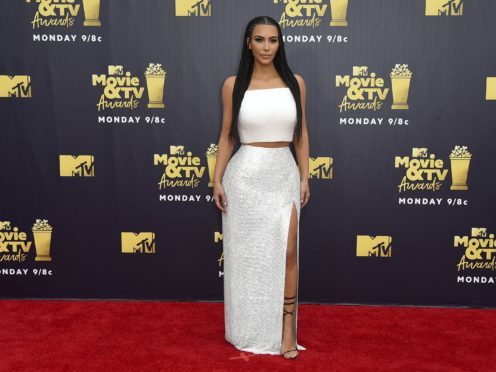 Kim Kardashian West has defended her braids and revealed she wore them because her daughter North asked her to.
The reality TV star, 37, sparked a backlash when she was pictured with her hair in Fulani braids at the MTV Movie And TV Awards earlier this month.
She had earlier been accused of cultural appropriation when describing a previous, similar hairstyle as "Bo Derek braids".
Now the mother of three has offered an explanation.
In an interview with lifestyle website Bustle, Kardashian West revealed four-year-old North was the reason she wore her hair in braids.
She said: "I actually didn't see backlash. I actually did that look because North said she wanted braids and asked if I would do them with her. So we braided her hair and then we braided my hair."
Kardashian West, who is also mother to sons Saint, two, and six-month-old Chicago, as well as wife to rapper Kanye West, also insisted she knew the origins of the hairstyle.
Fulani braids can be traced back to the Fulani ethnic group in West Africa.
She said: "I (do) remember the backlash when I had the blonde hair and that I called them 'Bo Derek braids'. But I obviously know they're called Fulani braids and I know the origin of where they came from and I'm totally respectful of that. I'm not tone deaf to where I don't get it. I do get it."