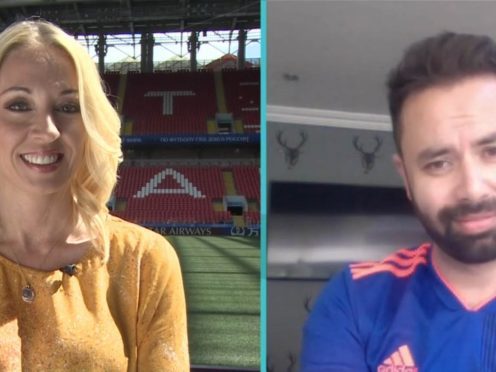 A reporter's marital tensions over the World Cup have been aired on BBC Breakfast.
Sports news correspondent Natalie Pirks was in Moscow giving viewers an update on preparations for the England v Colombia game when producers surprised her by putting her husband on air.
Diego Rincon has been encouraging the couple's children to support Colombia, their father's team, while their England-supporting mother covers the tournament.
Pirks told the BBC One show: "This is what happens when you leave your children for three weeks and your husband decides that indoctrination by stealth is the way to go because I'm out here working very hard!"
The couple were asked if they wanted to say good morning to each other.
"This is the last 'Good morning'. We won't speak again for 24 hours, I don't think," Rincon said.
Of persuading his children to support his team, he said: "I have to admit this isn't something that happened since the World Cup started. This is something I've had in my mind since before they were born.
"We're both big fans and I was like 'What will happen when they're of an age when they can start watching the game?' And I always knew I had to get them to be Colombia fans ahead of England fans."
Pirks hit back, saying: "I think I've just been so busy providing for my family and working very hard that I didn't take my responsibilities as an England fan seriously enough, clearly."
And she threatened to win her children over with signed England shirts.
"Maybe I'll see if some of the England team can sign them for the kids and try and get them that way … See, I can do that, you can't do that!" she told her other half.
Her husband, in London, said he had his own tricks up his sleeve.
"All I can offer is the best football party in town with the most colourful fans," he said.
"I asked my daughter 'Do you support Colombia even with Mummy being at the World Cup?' and she said 'Yeah, I've got the shirt, the badge on my shirt. Why not? There's no question?' So my work is done."
Pirks replied that she would be working hard: "I'll be working every hour on the hour until kick-off … and then after the game I'll be frantically cutting, interviewing players … and then back on it tomorrow, so there'll be no party here, no alcohol here."
She added: "I really hope you enjoy yourself, sweetheart, but just not at the final whistle."