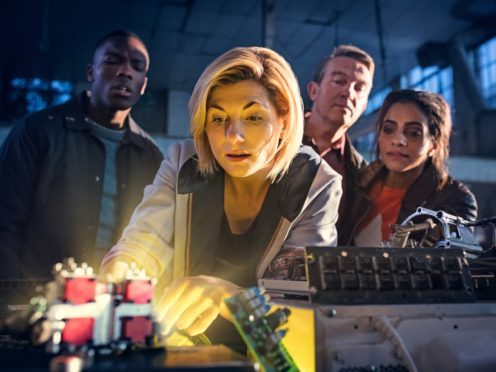 Doctor Who fans have been shown a brief glimpse of the new cast in action.
The short clip, shown on stage at San Diego Comic-Con, began with Jodie Whittaker's Doctor being blown out of the Tardis and into space.
It then moved on to brief glimpses of different worlds and the new companions – Mandip Gill, Tosin Cole and Bradley Walsh – in action.
A voiceover from Whittaker – the first ever female Doctor – said: "All of this is new to me. New faces. New worlds. New times. So if I ask really, really nicely, would you be my new best friends?"
On screen, Whittaker added: "This is going to be fun."
Following the trailer, Whittaker then unveiled her new sonic screwdriver on stage, showing off the silver and red device to fans.
Earlier, Whittaker was given a standing ovation as she entered the stage for her first appearance at San Diego Comic-Con.
Whittaker was introduced with a special trailer that showed her at Doctor Who's TV studios in Cardiff, before telling a crew member she was late for Comic-Con.
The video showed Whittaker approaching a Tardis that had a paper note attached to it with the words "for personal use" written on it.
It then cut to the actress outside the San Diego Convention Centre asking a star-struck fan for directions to Hall H.
The footage ended and Whittaker entered the stage to loud applause.
She was soon followed by her co-stars Gill and Cole, as well as producers Chris Chibnall and Matt Strevens.
Comic-Con continues until Sunday.