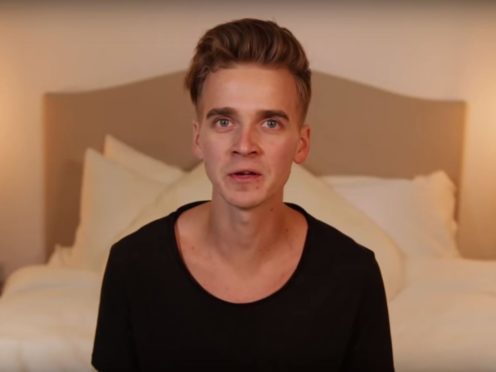 YouTube star Joe Sugg has said that he will have to stop drinking while taking part in Strictly Come Dancing, and that his grandparents will finally get a chance to see him working.
Sugg was the fourth star confirmed to be heading to the dancefloor in the BBC One series, and is the first ever vlogger to be signed for the show.
Sugg posted a video on his YouTube channel for his 8.2 million subscribers, where he also revealed that he took part in a "taster" session to see if he could dance.
He said: "This is huge for my grandparents. My grandparents both love the show, and although they know what I do on YouTube, I think it'll be great for them to see me on a platform they're more familiar with and with a TV show they are very familiar with."
Sugg, 26, added: "Also my other nan, who is in her 90s, I'm pretty sure she used to dance in Blackpool. So if I can get that far, it's quite far in the competition, she'd blimmin' well love it."
In a clip that showed him signing his contract to appear on Strictly, Sugg said: "Oh my God, what have I done? There's no backing out now.
"I'm going to have to start going to the gym, and I can't drink anymore that's for sure."
Of making his decision on whether to take the plunge, he told his followers: "Back at the start of the year I got approached and asked if I want to be on the show."
He said that the idea of dancing in front of millions of viewers "terrified" him and that he has "never danced sober" in his life.
But he said that, after meeting with show bosses, who were "very convincing", he was fairly certain he would take part.
"So I asked if I could do a taster session, because I've never tried to dance properly before," he said.
He said he later went for a session, adding: "It was OK, I left feeling a little bit more confident. I thought, if I'm going to train every week doing this, then it'll be fine, surely."
Sugg also told viewers that he had been told when the series is set to start, but that he could not remember.
Earlier on Tuesday, Sugg – the brother of YouTube star and writer Zoella – told the Radio 1 Breakfast Show that "a lot of people" might not know who he is, because of his claim to fame.
But he added, to host Scott Mills: "The YouTube community will be right behind me, hopefully.
"I'm very nervous about it. It's totally out of my comfort zone and I know it will be a huge challenge but that's what life is all about.
Sugg, who previously worked as a roof thatcher, is known for his challenges and pranks across his three YouTube channels, and he has 5.5 million Twitter followers.
TV presenter Katie Piper, Steps singer Faye Tozer and Red Dwarf actor Danny John-Jules have previously been announced as competitors in this year's show.