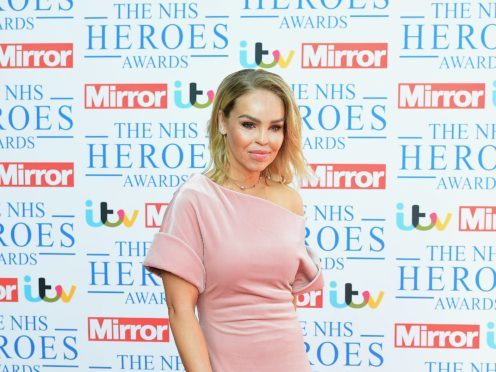 Strictly Come Dancing contestant Katie Piper has spoken about how "isolating" it was after her appearance was drastically changed by an acid attack.
The TV presenter and model had pioneering surgery to reconstruct her face and restore her vision after the attack at the hands of her former partner.
Writing in the new issue of National Geographic, in which she serves as guest editor, she said: "When your appearance is drastically transformed in an instant, it's life-changing.
"It's been a decade since I survived a sulfuric acid attack that left me with severe burns across my face. In the following years, I've worked to redefine my sense of identity.
"With injuries such as mine, your face can be so damaged that your expressions may not convey how you feel, and you may even lose your ability to smile.
"It can be an isolating experience. You feel one way on the inside but look completely different on the outside."
Detailing the procedures she went through, which included dermal substitutes, sheets of collagen and elastin, and skin grafts from other parts of her body, as well as a cornea transplant, she said there may still be scientific developments that make it possible to grow replacement skin and regenerate cells.
She wrote: "Even human faces may one day be grown in labs. However, people with facial disfigurement and injuries don't only need to regain the form and function of their face; they also need sustained therapeutic support.
"Many with facial injuries suffer ongoing mental health issues such as post-traumatic stress syndrome— and that's why I established the Katie Piper Foundation.
"I want to ensure that scars don't limit social inclusion or well-being. After more than 200 surgeries since my attack, I've accepted that my old face is gone.
"I've realised that recovery takes a long time and that not every operation will go to plan.
"My perception of beauty has changed over the years, and it's no longer focused on aesthetics."
Piper was the first contestant to be announced for the upcoming series of Strictly Come Dancing.
Others stars that have already been announced include cricketer Graeme Swann, DJ Vick Hope and This Morning star Dr Ranj Singh.
Piper is the guest editor of the September issue of National Geographic UK as part of a series of high-profile guest editors to celebrate the magazine's 130th anniversary.
Others include Sir Ranulph Fiennes, Lily Cole and Sir Mo Farah.