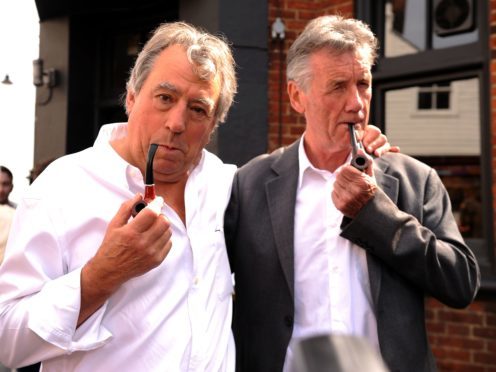 Michael Palin has said he and his fellow Monty Python star Terry Jones still enjoy moments where things "click" and they can understand each other, despite Jones living with dementia.
Jones, 76, who directed Monty Python's Life Of Brian and Monty Python's The Meaning Of Life, and co-directed The Holy Grail, is suffering from a form of dementia that affects his ability to communicate.
Palin told Radio Times magazine that Jones is "the one I see most" from the comedy troupe, which includes Terry Gilliam, John Cleese, Eric Idle and the late Graham Chapman.
He said: "He can't communicate his thoughts any more. It's sad.
"I'm very fond of him and I enjoy going there and hanging out.
"Occasionally things click and we can understand each other."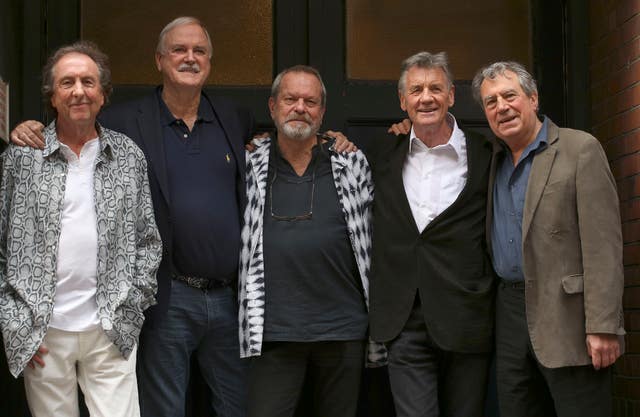 Monty Python celebrates its 50th anniversary next year.
The BBC's comedy commissioner Shane Allen made headlines earlier this year when he stated that if such a team were assembled today, "it's not going to be six Oxbridge white blokes".
Discussing the comment, Palin told the Radio Times: "It's been 50 years. Talk about beating us up when we're down.
"He was obviously manoeuvred into saying something silly.
"What does he mean? If you've had a good education and you're white you're not able to write comedy?
"What are they going to say? 'Oh God! The man who wrote that's an Etonian.'
"'But it's hilarious.'
"'It's no good, he's an Etonian!'"
Palin, who can next be seen in the new ITV adaptation of William Makepeace Thackeray's novel Vanity Fair, said times have changed when it comes to making television.
He said: "Then, a couple of people liked what we did and gave us 13 shows. There were no conditions.
"Nobody said, 'Can we see a script?'
"Now it has to go through half-a-dozen stages.
"They want to know what you're writing about, how long it will take, how much it will cost. It has to be checked for political correctness, 'compliance', 'diversity'. It's much more controlled."
This week's Radio Times is out on Tuesday.