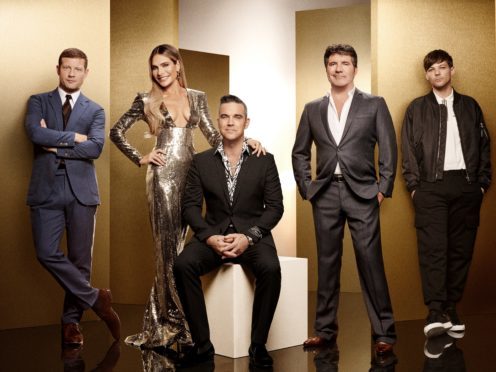 The new series of The X Factor has kicked off with just under six million viewers – the lowest launch figure since the show began in 2004.
An average of 5.7 million viewers tuned in to watch the first episode of the 15th series, a drop from last year's equivalent episode, which drew six million, according to overnight ratings.
The ITV programme, which debuted its new-look judging panel of Robbie and Ayda Williams, Louis Tomlinson and Simon Cowell, peaked with 6.3 million viewers.
However, Saturday's broadcast was the most-watched programme on TV across all channels and had a 34% audience share, ITV said.
The figures make it the lowest launch since the talent competition debuted 14 years ago, when 4.9 million watched the opening night.
Overnight ratings include those watching the programme live on ITV and on catch-up channel ITV+1, and further consolidated data will be revealed after seven days.
ITV boss Kevin Lygo recently defended the programme against the drop in ratings in recent years.
He told the Edinburgh TV Festival: "X Factor, more than any other show, it's been running a long time, ratings have been going down a bit, but it's still… the idea that you could launch a new show today that is as big as X Factor is now, I mean, our job is to keep it young, keep it good, keep it fresh."
Last year's series, which saw Louis Walsh, Sharon Osbourne and Nicole Scherzinger on the panel, attracted an average audience of 6.3 million viewers – the lowest in its history.
Ratings have fallen every year since 2010, when audiences averaged 14.1 million each week.
Some 17.7 million people saw Matt Cardle crowned the winner in The X Factor final in 2010, but last year the number was just 5.8 million.
The second episode of the new series will see Tomlinson become emotional as a struggling singer he has helped over the past year returns to the show for a second chance.
The X Factor airs at 8pm on Sunday on ITV.