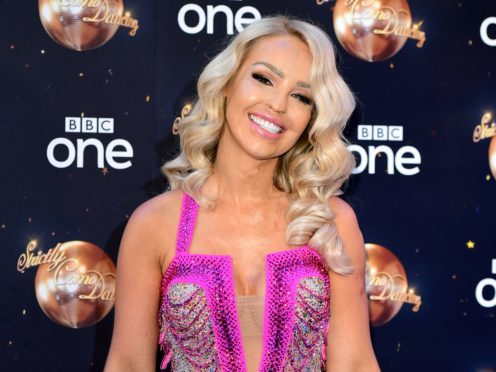 TV presenter Katie Piper has said she thinks she will be known as "this year's Ed Balls" in Strictly Come Dancing because of her lack of dancing ability.
Piper, 34, is one of 15 celebrity contestants gearing up to take part in the BBC One series, along with the likes of Blue star Lee Ryan, ex-Pussycat Doll Ashley Roberts and YouTuber Joe Sugg.
She said she feels she does not stand a chance in the competition, and likened herself to the former Labour politician, who took part in Strictly in 2016 and was considered a bit of a novelty act.
Piper told Fabulous magazine: "I feel like I am this year's Ed Balls, starting from zero."
She said that people she told about her new TV role "sent back the gritted teeth emoji" because she "can't dance".
"I am really nervous about doing the show," she added.
"I think I need to take a bit of my own advice, which is to fake it until I make it. I'm a confident person, but not in this area. This is really out of my comfort zone."
She said that the "only dance I'll be slightly less terrible at is ballroom because I'll have time to think about counting and the steps.
"With fast ones like samba and salsa I'm going to be the meme, the joke in the group chat!"
Piper, who has undergone dozens of operations after being targeted in an acid attack 10 years ago, said that she will not let her injuries hold her back on the dancefloor.
"The whole time I've had my injuries I've tried not to let them stop me doing most things, so it'll be the same approach this time," she said.
"Everyone's going to have reasons why they're going to struggle – some are older, others not as physically fit."
Piper was left fighting for her life after obsessive ex-boyfriend Daniel Lynch arranged for Stefan Sylvestre to throw the corrosive liquid in March 2008.
She was left partially blind and has scarring across her body and face.
Sylvestre was given a life sentence in 2009 for the attack and was told he must serve a minimum of six years before he would be eligible for parole, and it was recently announced that he is set to be released from prison.