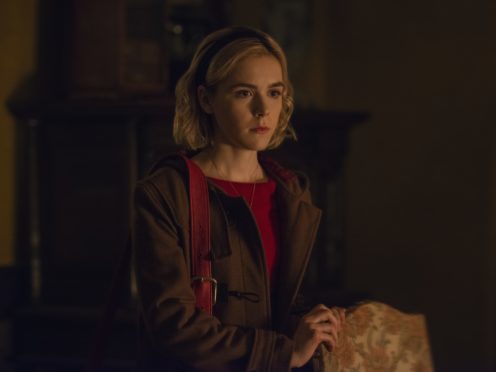 Mad Men star Kiernan Shipka is serenaded with a sinister rendition of Happy Birthday in the first teaser of the Chilling Adventures Of Sabrina.
She is joined by what appears to be a coven of witches at her birthday party, and can also be seen kissing co-star Ross Lynch.
The brief teaser clip also shows a candlelit seance and a horned creature pacing through the woods.
Shipka, best known for playing Sally Draper in Mad Men, stars in the Netflix series as Sabrina Spellman who, on her 16th birthday, has to decide whether to sign the Devil's book and becomes a full-fledged witch.
The show, adapted from the comic books and made by the team behind Riverdale, imagines the origin and adventures of Sabrina The Teenage Witch as a dark coming-of-age story that traffics in horror, the occult and witchcraft.
In it Sabrina wrestles to reconcile her dual nature — half-witch, half-mortal — while standing against the evil forces that threaten her, her family and the daylight world humans inhabit.
The Chilling Adventures of Sabrina launches on Netflix on October 26.