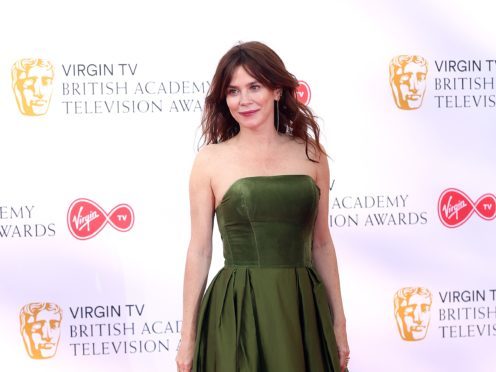 Actress Anna Friel has said she hopes that her new drama programme can help change perceptions about transgender children in the same way that her lesbian kiss on Brookside did for all-female couples.
Friel will play the mother of a boy who wishes to live as a girl in a new mini-series called Butterfly.
The three-part ITV series will focus on 11-year-old Max, who dresses as a girl at home and makes the decision he no longer wants to hide his identity to the outside world.
Friel shared the first lesbian kiss to be broadcast on British television before the 9pm watershed with fellow Brookside actress Nicola Stephenson.
The kiss was later screened to a TV audience of billions when a clip of it was included in the opening ceremony of the 2012 Olympic Games in London.
Ahead of her series Friel was asked why she thought there were negative attitudes towards parents allowing their children choose to be gender-fluid.
The actress replied: "Lack of understanding, lack of knowledge, lack of education, I think."
Referring to the kiss she added: "Think back to 25 years ago, to another girl – 'Ahhhh'. And now all that time on, now it's the blink of an eye, so hopefully we'll make that same progress."
Irish actor Emmett J. Scanlan plays Stephen in Butterfly, the estranged husband of Friel's character Vicky.
When asked how he would feel if his 16-year-old daughter decided they were trans, Scanlan said: "There's a great line in the show when Vicky says, and I'm paraphrasing here, 'It's better to have a daughter than a dead son', and that really resonated with me.
"The statistics within the community, over three quarters of them self-harm and nearly half of them have attempted suicide, it's a horrific statistic.
"And if you had the choice between that, what would you want?
"All I want is for my daughter to feel happy, to feel loved, to feel accepted in this world that likes to compartmentalise everything because we're afraid of challenging our idea of what 'normal' is. I just want her to be happy."
Butterfly has been written by screenwriter and playwright Tony Marchant, who is is known for TV dramas including Public Enemies, which starred Friel, The Secret Agent and Garrow's Law.
Friel co-produced the series, which was filmed in Manchester earlier this year.