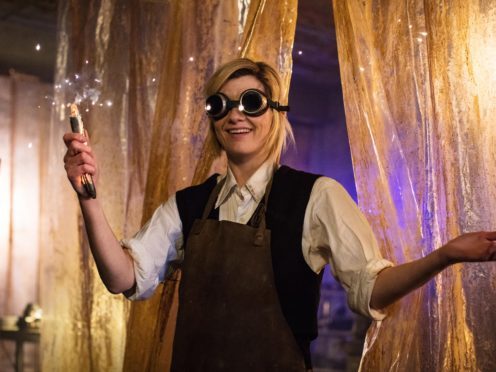 Doctor Who fans have shared their delight as Jodie Whittaker stars in a new trailer for the sci-fi series.
Whittaker, who will make her debut as the 13th Doctor in October, appears in the action-packed trailer along with Bradley Walsh, Mandip Gill and Tosin Cole, who play her companions.
The characters are seen running away from explosions, walking through a desert and encountering unknown creatures in the clip, which gives little away about future storylines.
In the trailer, Whittaker declares: "I'm the Doctor. When people need help, I never refuse."
She also tells her colleagues to "get a shift on" and that she is "just a traveller" in other segments, while pulling several faces throughout, hinting at the demeanour of her version of the sci-fi stalwart.
At the end of the trailer, the words "it's about time" flash up on the screen.
Broadchurch and Trust Me star Whittaker, 36, is the first woman to ever play the Doctor.
Fans took to Twitter to share their thoughts on the teaser, with writer and director James Moran commenting: "Okay, so this is why I'm so excited about the #DoctorWho trailer: fun, bright colours, adventure, laughs, warmth, heart, helping people, fixing things, goggles, song choice, 'let's get a shift on', everything else.
"All of which is why I am SO READY. BRING IT."
Another fan wrote, along with a grab from the trailer of Whittaker blowing a kiss: "My reaction after seeing this trailer. Jodie Whittaker IS the Doctor."
"This is honestly the most engaged I've been in #DoctorWho in years," one fan said.
"This trailer is visually stunning and Jodie looks *amazing*."
Others compared Whittaker's Doctor to that of former Time Lord actor David Tennant, who played the role from 2005 until 2010.
"Anyone else getting a David vibe from this? Their expressions are so similar!! I am so excited! #DoctorWho #ItsAboutTime," one fan wrote.
Another said: "The more I see of Thirteen, the more Ten/David Tennant vibes I get, and I am SO HERE for it. She is going to be brilliant. Fantastic. #DoctorWho #Thirteen."
Whittaker was announced to be taking over the popular role from her predecessor Peter Capaldi last year.
– Doctor Who airs on BBC One on October 7.