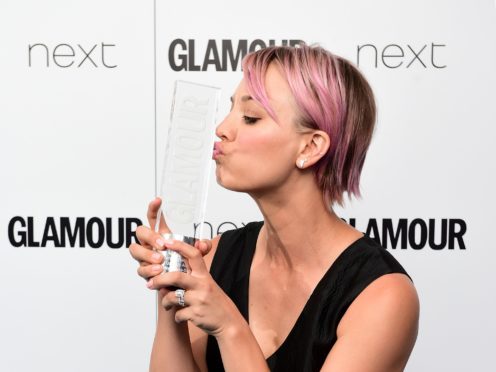 Kaley Cuoco said she was "afraid" to ask for a picture with The Big Bang Theory guest star Kathy Bates.
Cuoco is starring in the final season of the popular US sitcom and the first episode featured an appearance from veteran actress Bates.
She played the mother of Mayim Bialik's character Amy Farrah Fowler.
As the season 12 premiere aired in the US on Monday, Cuoco, 32, shared a picture of her looking over the shoulder of Bates during filming.
It was captioned: "Still afraid to ask Kathy Bates to take a picture with me. So this is all I got."
It was announced in August that The Big Bang Theory would wrap in 2019. Cuoco has played the character of Penny since the show started in 2007 and she said she would have been happy to carry on for decades.
She told Extra: "It's broken my heart. I am so sad that it's ending. For the record, I would have done 20 more years."
Starring Cuoco, Johnny Galecki, Jim Parsons, Simon Helberg, Kunal Nayyar, Mayim Bialik and Melissa Rauch, The Big Bang Theory centres on a group of scientists and their relationships.
It has received 52 Emmy nominations and 10 wins to date.
The programme will end in May 2019 after 279 episodes and will be the longest-running multi-camera series in television history.
Bates, 72, is known for starring in films including Revolutionary Road, Midnight In Paris and 1990's Misery, for which she won the Academy Award for best actress.