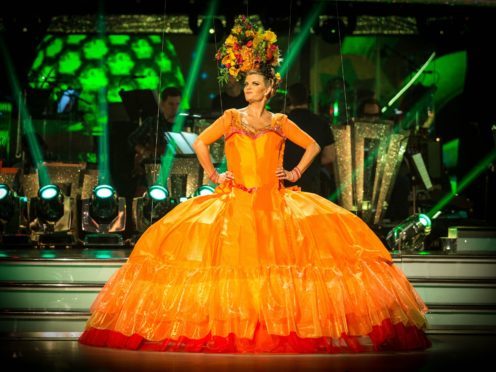 Strictly Come Dancing star Susannah Constantine has revealed she wanted to slap head judge Craig Revel Horwood after he awarded her just one point for her debut dance on the show.
The fashion journalist and TV presenter appeared in a huge orange dress and a fruit headpiece for her first performance with professional partner Anton Du Beke.
The pair are currently bottom of the leaderboard with a tally of 12 points, with Revel Horwood saying Constantine looked like she was "staggering about lost and drunk at a party".
The cutting criticism prompted Constantine to ask Revel Horwood: "Will you come and show me how to do a few steps?"
Constantine was asked by Zoe Ball, host of Strictly spin-off show It Takes Two, if the judge had taken her up on the offer.
She replied: "Do you know what, he has. I actually had a long chat with him afterwards. I had my hand ready to slap him across the face and he could not have been nicer.
"We sat and chatted for about an hour afterwards and he was so interesting and charming and showed another side which you don't get to see.
"Thank god there is that other side!"
Constantine admitted she did not enjoy watching footage of her debut routine but added she was actually expecting to score a lower mark than 12.
Du Beke said that he finds it unconstructive when judges pontificate as they deliver their assessments of performances and praised Revel Horwood for being honest.
He said: "I don't mind Craig's comments, I quite like them. It's concise and you definitely know what's going on and I like it. I think it's helpful."
In the next episode of the BBC's flagship entertainment show, Constantine and Du Beke will dance the foxtrot to Frank Sinatra's They Can't Take That Away From Me.
Strictly Come Dancing continues on BBC One at 6.30pm.