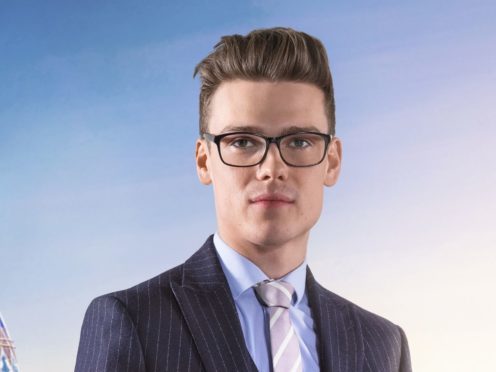 Former Apprentice candidate Alex Finn has been mocked by some viewers after he told Lord Sugar he had a "millionaire's mindset" mere moments before being fired from the show.
The IT analyst, 21, was the fourth person to exit the current series of the BBC One programme, after failing to sell a single item during a bodybuilding-themed task.
Facing Lord Sugar in the boardroom alongside project manager Sabrina Stocker and Sian Gabbidon, Finn attempted to convince the tycoon to keep him in the competition.
Lord Sugar told him: "Jean-Claude Van Damme was the muscles from Brussels. I have a picture of you being more like the squirrel from the Wirral."
Finn responded by telling Lord Sugar he was an "exceptional individual" with "a millionaire's mindset".
However, his attempt to woo the tycoon failed and he was sent home after being told: "You're fired."
Viewers appeared to revel in Finn's departure, taking to social media to poke fun at his assertion that he has a "millionaire's mindset".
One Twitter user suggested that his mindset was more "deluded".
A resident of the Wirral congratulated Lord Sugar on his pithy one-liner, saying it was "absolutely brilliant".
Another simply suggested that Finn was a "wet lettuce" and not cut out for the programme.
A fourth viewer said Finn was wrong to say spray tan products were female products at a bodybuilding expo, where the majority of men present were wearing fake tan.
Another social media user suggested Finn's lack of upper body strength might have contributed to his failure to sell a single piece of body-building equipment.
However, one online viewer did appear to lament his departure.
The Apprentice continues next Wednesday at 9pm.