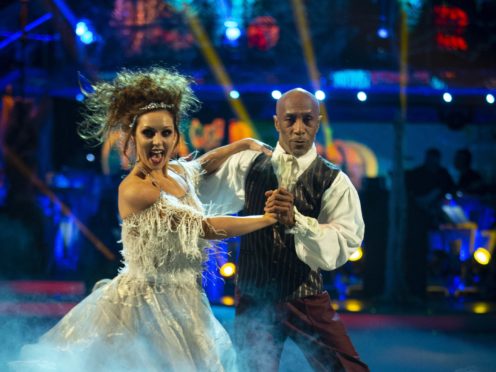 Strictly Come Dancing professional Amy Dowden has praised partner Danny John-Jules for taking care of her on the dancefloor after she injured her ankle last week.
She collided with fellow Strictly dancer Gorka Marquez while training for the show's professional routine, and said that it left her and John-Jules unable to rehearse their routine the day before Saturday's live show.
Dowden told Strictly: It Takes Two: "In the pro rehearsal, unfortunately Gorka and I collided. It was just an accident that happened; my heel went right on the top of Gorka's foot, so my ankle went and I sprained it.
"Gorka was left with a nasty bruise too."
Speaking of her and John-Jules's routine: "We didn't get to rehearse together at all on the Friday, and I actually think it helped Danny, because going in and out of the lifts, he was really caring. He was brilliant.
"He led me around that floor beautifully and I wasn't worried at all."
John-Jules said: "I was forced to take command."
Despite the injury, John-Jules and Dowden went on to score 30 points from the judges for their American smooth to Spirit In The Sky by Doctor And The Medics.
The Red Dwarf actor later said that he is "feeling good" about their routine for this weekend, and added: "We've now come out of a little hiccup last week with Amy's foot, and it had nothing to do with me, which I'm glad of."
The pair will dance a quickstep to Freedom by Pharrell Williams in the next live Strictly show.
Speaking of looking ahead to the final, John-Jules – who was awarded the first 10 of the series by the judges two weeks ago – said that he is not thinking about it.
"I never tempt fate," he said.
Dowden added: "We just work each week as they come, deliver the best possible dance we can, we don't try to get caught up in the scores of the leaderboard.
"My job is to make Danny the best possible dancer he can be."
Strictly Come Dancing airs at 7.05pm on Saturday on BBC One.