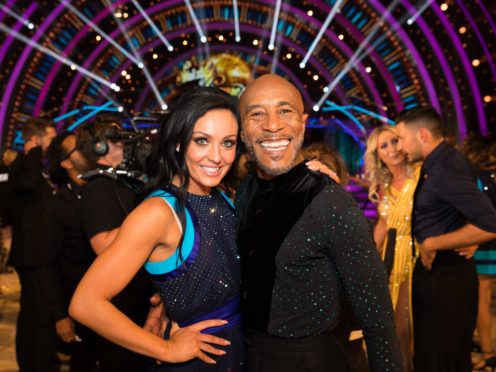 Strictly Come Dancing's Amy Dowden has said she has "never felt threatened" by her partner Danny John-Jules as she addressed clashing with him earlier this week.
The duo were at the centre of reports that they had had a disagreement in the dance studio on Wednesday, with professional dancer Dowden walking out of a session, before resolving the row and returning to training.
A source denied claims that John-Jules was given a "final warning".
They have set the record straight about the row, with John-Jules joking that he would never "argue with a Welshwoman".
Appearing on Strictly: It Takes Two, Dowden, 27 said: "Things did get a little bit intense the other day in rehearsal, but you know what, we took a half-hour break and then got straight to it.
"I never felt bullied or threatened by Danny, I really want to get this man to Blackpool, and then to the final."
Red Dwarf and Death In Paradise star John-Jules, 58, added: "All I can tell you is that the only reason I'm here, this far, is because of Amy, and I'd never bite the hand that feeds me."
He said that he is "more than happy", that he and Dowden have done the "best dancing we've done" over the past few days, and that "I'm just happy to go along, she's the boss, she wears the pants".
Asked if he is ready to dance the samba this weekend, John-Jules quipped: "Why would I argue with a Welshwoman?"
Earlier in the day, John-Jules had poked fun at the reports of their clash.
He posted a picture on Instagram of movie monster King Kong holding a woman and wrote: "My new CV just arrived."
Last weekend, he ended up at the bottom of the leaderboard with 22 points after he and Dowden failed to impress with their quickstep.
Earlier in the competition, they had been riding high and were awarded the first 10 of the series.