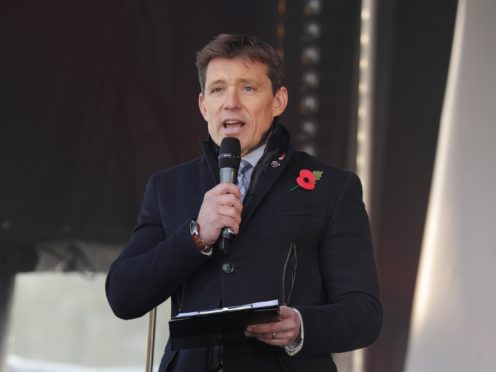 Good Morning Britain host Ben Shephard had a tricky encounter with a millipede when it urinated on his hand on live TV.
The presenter, 43, was handling and admiring the creature, saying "it's like a bracelet", before it started to move.
Co-host Kate Garraway, 51, had remarked: "It looks like a beautiful brooch until it starts to wriggle."
Shephard, who was in the studio with Made In Chelsea star Ollie Locke and his fiance Gareth Locke, said: "Oh, look at its legs, It's starting to move now."
He then started to squirm and exclaimed: "It's weeing on me!
"I'm covered in millipede wee. I need sanitiser," he said.
He told viewers that the creature had made him move around so much he would "dislocate my shoulder!"
Garraway joked of the millipede: "I quite like him now. He's treated you with the respect you deserve. Well done."
She added of Shephard: "He's going to need a bucket of sanitiser".
After returning from a break, his colleagues told him: "You do really smell of millipede."
Engaged couple Ollie Locke and his fiance had been taking part in a task, Squeal Or No Squeal, handling a spider and a snake.
Gareth Locke said of his cameos in Made In Chelsea: "It's alright. It's not something I want to really do."