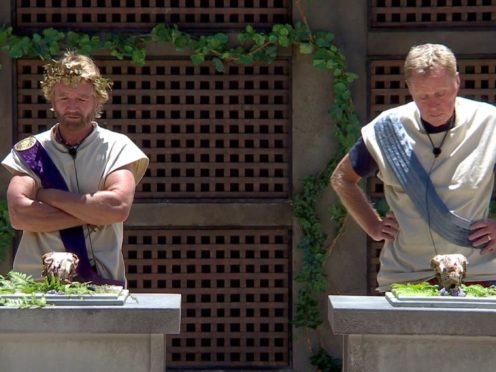 Noel Edmonds puts his visualisation techniques to the test when tasked with eating a sheep's brain in the jungle.
A teaser clip from Saturday night's I'm A Celebrity … Get Me Out Of Here! shows the star attempting to imagine that the brain served in a sheep's skull in front of him is in fact a walnut.
"I'm trying to engage in what I call corneal realignment protocol, C-R-A-P for short," he says, sending the show's hosts Declan Donnelly and Holly Willoughby into giggles.
"You visualise something other than what you're looking at, so I'm seeing a very large walnut that will be chewy."
He is asked "Is it helping?" but admits: "No".
Edmonds and jungle campmate Harry Redknapp face the "Roman banquet" Bushtucker Trial in the ITV show.
"Any condiments?" Edmonds asks when he is told he has to eat the whole brain.
"I've got to do it. I've got the grandkids at home watching, can't let them down," says Redknapp, to which Willoughby responds: "Oh Harry, you're going to make me cry."
When Willoughby tells him that "it's a delicacy in many places", Redknapp is unimpressed.
"Not in Stepney it ain't," he says.
In other scenes, Edmonds has been showing Redknapp his painted toenails and the former Noel's House Party star has been rubbing the veteran footballer's leg to help alleviate his aches and pains.
"Look what my wife did," Edmonds says, removing a sock and showing off his toes.
"She said 'You'll remember me'.
"I said 'Why is one red?' and she said 'That's the emergency toe. If you're in a really tight spot you press that toe.' She hasn't told me what then happens."
I'm A Celebrity continues on Saturday night at 9.30pm on ITV.