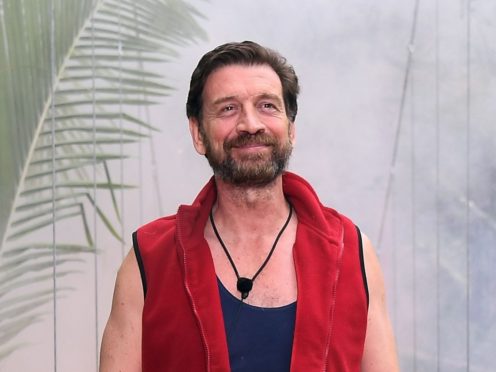 Nick Knowles has become the sixth contestant to face the boot from I'm A Celebrity … Get Me Out Of Here! following a public vote.
After his name was called by hosts Declan Donnelly and Holly Willoughby, the television presenter turned to Fleur East, who had also been at risk of leaving, to say: "I'm glad you're still in, darling."
DIY SOS host Knowles managed 20 days in the jungle and became the camp's de facto cook, playing a fatherly figure to the group's younger members.
After hugging his campmates, Knowles joined Willoughby and Donnelly in the studio where he said he hoped the camp's camaraderie could be an example of unity to a UK rife with "division".
After taking a long swig of water, Knowles, 56, said: "When I came in here I wanted to see whether a whole bunch of people could get together and make friends. We are having such a hard time in the UK at the moment. There's so much division in the UK.
"I thought if we could all get on in here then it would be a bit of a pointer for everyone at home. There's this big split going on in the UK."
Asked what he had found the most challenging about his time in the jungle, Knowles replied: "I think the thing that surprised me was the tough things you don't see everyday. The tough physical stuff. There's a huge hill to go up and down, lugging the water uphill and so on and so forth."
He joins Anne Hegerty, Rita Simons, Noel Edmonds, Malique Thompson-Dwyer and Sair Khan in exiting the jungle.
Earlier, James McVey had navigated a Christmas-themed aerial assault course blindfolded in the episode's vertigo-inducing Bushtucker trial.
Guided by East, the star was challenged to make his way across the treacherous course, as green ants scurried around inside his clothes.
Morning in camp saw The Vamps star, East and Inbetweeners actress Emily Atack compete to take part in the day's Bushtucker trial.
Only two contestants were needed and McVey and East were eventually selected by Harry Redknapp to take on the challenge.
Talking in the Bush Telegraph following the football manager's decision, Atack said: "I kicked up a stink, didn't I? I was like, no, I want to do it. It's because it's my time of the month, I'm being vile."
McVey and East made their way into the jungle in search of the trial arena.
Referencing East's successful record in Bushtucker trials, McVey predicted the pair would secure all six stars, saying: "Let's go for a full house."
They joined Donnelly and Willoughby in the Bushtucker arena, which had been covered in festive decor.
"It's very Christmassy," commented East.
The pair were challenged to complete Ding Dong Merrily Up High, which would see McVey manoeuvre a 30-metre high Christmas-themed assault course blindfolded.
Donnelly told them: "As you can see, the stars are attached to presents. Each one you collect is worth a meal for camp."
In a twist, East was forced to compete dressed as Father Christmas while McVey had to don a suit styled after Rudolph the Red-Nosed Reindeer.
After the klaxon sounded, signalling the beginning of the challenge, Willoughby commented: "This is the most ridiculous thing I've ever seen."
Directing from below, East called out commands to McVey to stop him from toppling down.
In true I'm A Celebrity style, the course contained boxes of green ants, which scurried into McVey's body suit when he opened them.
On completing the course, and having tossed down his collected stars, East stopped to count their loot.
The pair had secured four out of a possible six stars, earning the camp four meals.
I'm A Celebrity… Get Me Out Of Here! continues on ITV.