Ruth Jones has said she feels empowered playing her Gavin And Stacey character.
The Welsh actress will reprise her role as Nessa in the comedy when it returns for a special episode on Christmas Day.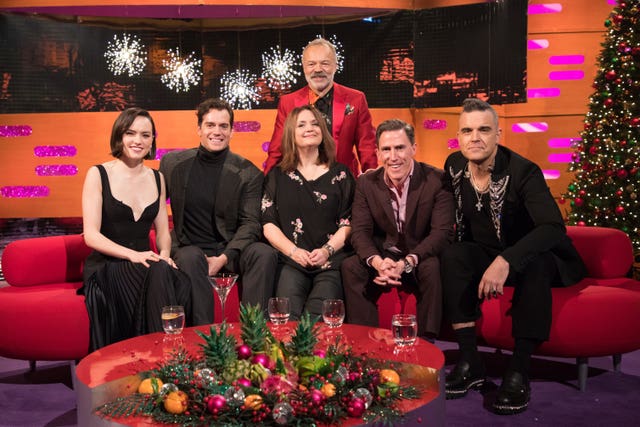 She told The Graham Norton Show: "I feel very empowered when I am her because she doesn't care, she is very confident, she wears clothes I would never ever wear, and she is quite masculine – a very alpha female.
"As Nessa I can be as rude as I like!".
Jones said she and co-creator James Corden had been keen to "keep the warmth that was always there" and had considered a story line which sees "Gavin (Mathew Horne) having an affair or Gavin and Stacey (Joanna Page) divorcing, but we really wanted to hold on to the heart of the original show and I hope we've done it".
Corden is also reprising his on-screen role as Gavin's best friend Smithy, alongside original fan favourites Rob Brydon and Alison Steadman.
Brydon told Graham Norton: "Getting everyone together was amazing. I was sure it wouldn't happen because there was literally a two-week window. But we did and it was so lovely and so emotional. I'd seen pretty much everyone over the years, but not all together. It was the happiest job I have ever done.
The show, which also stars Larry Lamb and Melanie Walters, originally ran over three series, plus a Christmas special, from 2007 to 2010 on the BBC.
Other stars appearing on The Graham Norton Show include Star Wars actress Daisy Ridley, The Witcher star Henry Cavill and singer Robbie Williams.
The Graham Norton Show airs on BBC One tonight at 10.35pm