A production company has launched an "urgent" internal investigation into allegations of serious misconduct against Russell Brand while he was presenting TV shows in the mid-2000s.
The comedian has been accused of pursuing audience members for sex while presenting Big Brother spin-off shows EFourum and Big Brother's Big Mouth on Channel 4.
The claims were made in a joint investigation by The Sunday Times, The Times and Channel 4 Dispatches, in which four women make separate allegations of sexual assault.
The BBC said it is "urgently looking into the issues raised" while Brand worked on BBC radio programmes between 2006 and 2008, while the Metropolitan Police said they will speak to the Sunday Times and Channel 4 to ensure "any victims of crime who they have spoken with are aware of how they may report any criminal allegations to police".
Brand has denied the allegations.
A researcher claimed concerns about Brand's behaviour were reported to production managers at Endemol, the company commissioned by Channel 4 to produce the programmes in 2004 and 2005, but were dismissed.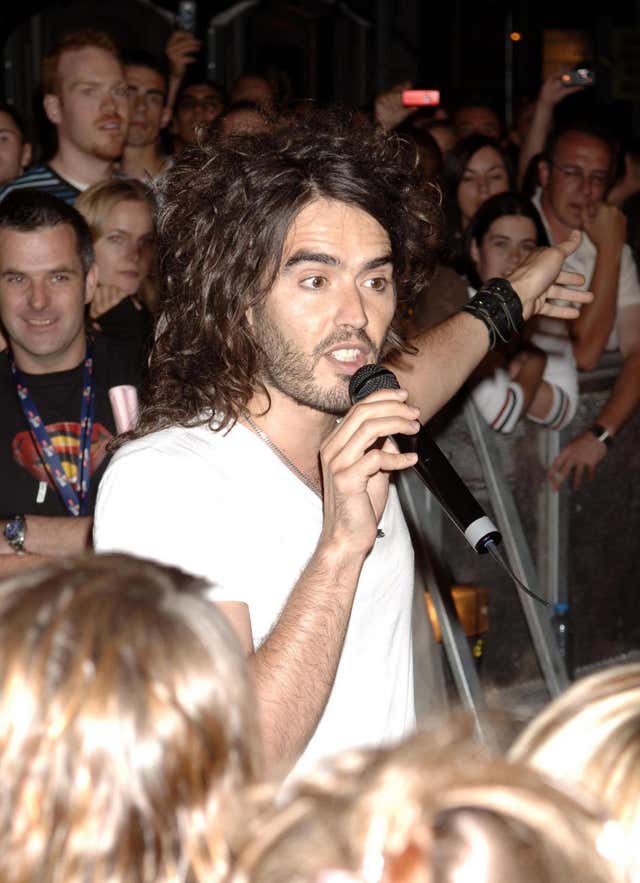 A statement from Banijay UK, which bought Endemol in 2020, said: "In light of the very serious allegations raised by Dispatches and The Times/Sunday Times investigation relating to the alleged serious misconduct of Russell Brand while presenting shows produced by Endemol in 2004 and 2005, Banijay UK has launched an urgent internal investigation and will co-operate with any requests for information from broadcast partners and external agencies.
"We also encourage anybody who feels that they were affected by Brand's behaviour while working on these productions to contact us in confidence."
Brand was also accused of rape, sexual assault and emotional abuse between 2006 and 2013, when he was working for the BBC and Channel 4 as well as starring in Hollywood films.
The 48-year-old actor and comedian vehemently denies the allegations and, in a video posted online, stated all of his relationships have been "consensual", before accusing the media of a "co-ordinated attack".
Following the allegations, which were aired during a Channel 4 Dispatches special titled Russell Brand: In Plain Sight, the Trevi Women & Children's Charity in the UK announced it had ended its association with Brand and his charity, the Stay Free Foundation.
A statement on Instagram said: "Russell became aware of our charity in 2022 after hearing about some of the incredible mothers we have helped to become drug-free over the years.
"He wanted to support our cause and raise money through his Stay Free Foundation."
The charity said it had been "deeply saddened and upset" following the allegations against Brand, adding: "We have ended our association with Russell Brand and the Stay Free Foundation."
On Brand's website, the Stay Free Foundation is described as a charitable organisation that focuses on "supporting people through recovery from addiction, their mental health issues and the non-profit organisations that help them".
It states it makes "regular donations" to treatment centres such as Friendly House in Los Angeles and BAC O'Connor in the UK while also supporting the Trevi charity and the Treasures Foundation, "who are the only residential rehabilitation centre in the UK exclusively for mothers and their children".
A statement from the Treasures Foundation to the PA news agency said: "At Treasures Foundation we only know Russell Brand in the capacity of him wanting to make amends and give back to women, hence the desire of his to give to our charity.
"We are part of a programme that practises forgiveness and making amends. Many of us have been through sexual trauma and some of us have been perpetrators."
It added: "We can't make an opinion on what has come out right now. We just know him for the good that he does now."
Brand was rehabilitated from heroin addiction in 2003 and has since released his part personal memoir and part self-help guide titled Recovery: Freedom From Our Addictions, as well as setting up his Community festival, which sees all the profits donated to the Stay Free Foundation.
The allegations made against Brand include one woman who claims she was sexually assaulted during a three-month relationship with him when she was 16 and still at school.
The woman described his behaviour towards her as "grooming" as he would allegedly provide her with scripts on how to deceive her parents into allowing her to visit him.
In 2020, the woman contacted Brand's literary agent at the time, who was also the co-founder of talent agency Tavistock Wood.
A statement given to the PA news agency by Tavistock Wood said: "Russell Brand categorically and vehemently denied the allegation made in 2020, but we now believe we were horribly misled by him. TW has terminated all professional ties to Brand."
Another woman alleges that Brand raped her at his Los Angeles home while a third claims that Brand sexually assaulted her while she worked with him in Los Angeles and threatened to take legal action if she told anyone of the allegation.
A fourth woman claims she was sexually assaulted by Brand and alleges that he was physically and emotionally abusive towards her.
The allegations were made in a 90-minute Channel 4 Dispatches film which also saw other women speak of their experiences working with Brand on TV sets, including his former personal assistant Helen Berger, who called him a "narcissist".
As the film aired, Brand appeared as scheduled at the 2,000-capacity Troubadour Wembley Park Theatre in north-west London to perform a sold-out comedy gig.
While not directly addressing the allegations, audience members told the PA news agency that Brand said he hoped they could "appreciate" there were things he could not talk about during the set.
In a video statement, posted online ahead of the publication of the claims, Brand claimed he was facing a "litany of extremely egregious and aggressive attacks".
He continued: "These allegations pertain to the time when I was working in the mainstream, when I was in the newspapers all the time, when I was in the movies and, as I have written about extensively in my books, I was very, very promiscuous.
"Now, during that time of promiscuity the relationships I had were absolutely, always consensual. I was always transparent about that then, almost too transparent, and I am being transparent about it now as well.
"To see that transparency metastasised into something criminal, that I absolutely deny, makes me question is there another agenda at play."
On Sunday, Foreign Secretary James Cleverly suggested there are wider questions for the entertainment industry to answer.
While he did not comment specifically on the allegations, he told BBC One's Sunday With Laura Kuenssberg: "I think there are some real challenges where you have these very, very acute differentials in power, whether that be in the entertainment industry, whether that be in politics and we see this in the commercial world as well.
"I think we have to be particularly careful when we listen to the voices of the people who are relatively powerless because we, I think, collectively have missed opportunities to do the right thing and intervene much, much earlier, and we've got to be better at this."
It comes after Commons Culture, Media and Sport Committee chair Dame Caroline Dinenage said MPs would be "closely monitoring" the response to the allegations against Brand.
In a statement, Channel 4 said it is determined to understand the "full nature" of the claims alleged partly while Brand was a TV presenter for the broadcaster, adding that in the years since the alleged incidents there has been "extensive change" and the channel now has a "zero-tolerance approach to unacceptable behaviour".
The BBC said it will "always listen" to people if they come forward with any concerns "related to any individual working at the BBC, past or present".
In the wake of the #MeToo movement, Brand previously said he had no regrets about his previous sexual behaviour, claiming to have had intimate relationships with hundreds of women in the past.
Brand was married to US pop star Katy Perry from 2010 to 2012 but is now married to Laura Gallacher, the sister of presenter Kirsty, and the pair have two children, Mabel and Peggy – with a third on the way.
In recent years, Brand has seemingly become a prominent conspiracy theorist, using his YouTube channel with millions of followers to cover topical news stories, including alleged misinformation surrounding the Covid-19 pandemic and being an outspoken sceptic of the vaccine.
His new live comedy show, Russell Brand Bipolarisation, has three dates left in September.